Public transport
Integrated transportation system in Ostrava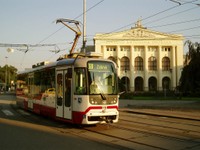 Public transportation in the City of Ostrava is organised by the Integrated Transport System (ODIS). Within the city, there are seven hundred vehicles used in a dense tram, bus, and trolleybus network that transports 114 million passengers per year. Timetables of all the routes are listed at the stations, and are also available in printed versions and on the Internet www.dpo.cz.
The city is divided into four zones. Also Ostrava XXL was created recently to include towns and cities in Ostrava's immediate vicinity. Two types of short-term tickets only with time limitation are valid in this zone. These are 15-minute and 60 minute tickets, whereas discounted tickets apply for children aged 6 to 15. 24-hour tickets for day-long and weekend travel are a good choice. They're only valid within the territory of the city of Ostrava in zones 1, 2, 3, and 4. A non-discounted 24-hour ticket is valid over weekends and holidays for up to 5 passengers, of which at the most two can be 15 years of age or more. Long-term tickets for 7 to 365 days are sold for a determined number of zones.
About 20% of public transport vehicles in Ostrava have lowered floors, which makes them especially suitable for disabled people and parents with prams. During special events, historical vehicles are brought out of retirement.
Public Transport Ostrava now offers the option of downloading timetables into your mobile phone for free from its Website http://dpo.cz/jizdni-rady.html. Another technological novelty is purchasing tickets by SMS message. But travellers must first get with their operator and activate the service Premium SMS (if not yet activated). Then just send a text message "DPO" to one of the telephone numbers determined by the type of ticket. Call the telephone number 902 06 25 to purchase a 25-Crown ticket (for adults), and 902 06 15 for a 15-Crown ticket (for children, dogs and luggage). Within about two minutes the traveller receives an SMS ticket with a time limit of 70 minutes. The traveller should enter the vehicle only after receiving the SMS ticket.
The Integrated Transport System (ODIS) also includes a very well developed transport network for inter-city travel, and international routes. The Central Bus Station is located close to the city centre and the Ostrava Centre Railway Station.
Information centre – public transport
(Main shop)
Vojanova ulice
702 00 Ostrava - Moravská Ostrava
tel.: +420 597 608 508 (nonstop)
SMS Info: 773 605 066
e-mail: infoservis@dpo.cz
www.dpo.cz
Central Bus Station
(Information)
Vítkovická 5
702 00 Ostrava - Moravská Ostrava
tel.: +420 596 632 634
tel.: +420 596 633 751
www.idos.cz
Information centre ODIS
(It provides information about connections in the framework of the entire ODIS integrated transport system including bus and train connections in the whole Czech Republic).
Peterkova ul. 1152
721 00 Ostrava - Svinov
tel.: +420 596 941 108
e-mail: info@kodis.cz
www.kodis.cz