Shopping
Shopping centers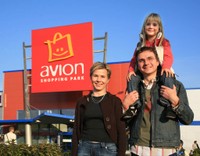 Ostrava is the shopping centre of the region. You can find small specialised shops, as well as hypermarkets and shopping galleries, where you can find everything you're looking for under one roof. Little markets with fresh fruits, vegetables or flowers are here as well.
In 2001, the largest bookshop in the whole country was opened here. The Librex Bookstore is spread over 4 stores, covering 3 000m2, with Czech, foreign, classical, and specialised literature, as well as magazines and journals, postcards, calendars, textbooks and a full assortment of stationery.
You can buy souvenirs for yourselves or for your family and friends in branch offices of the Ostrava City Information Centre, located in the town centre, the Viewing Tower of the New City Hall, the Ostrava-Svinov and Ostrava Main railway stations and Leos Janacek Ostrava Airport.
Department stores
| Name | Address | Telephone | Webpage |
| --- | --- | --- | --- |
| AVION Shopping Park Ostrava | Rudná 114 | +420 597 434 900 | www.ostrava.avionshoppingpark.cz |
| Forum New Karolina | Jantarová 3344/4 | +420 221 015 962 | www.nova-karolina.cz |
| Futurum Ostrava | Novinářská 3178/6a | +420 596 666 111 | www.futurumostrava.cz |
| Bauhaus Ostrava k.s. | Janáčkova 22 | +420 596 114 601-3 | www.bauhaus.cz |
| Baumax ČR a.s. | Novoveská ulice | +420 596 625 232-5 | www.baumax.cz |
| Baumax ČR a.s. (Shopping park) | Rudná ulice | +420 596 761 755 | www.baumax.cz |
| Globus | Opavská 326/90 | +420 596 988 111 | www.globus.cz |
| Hornbach, Baumarkt CS, s.r.o. | Bílovecká 3 | +420 597 224 000 | www.hornbach.cz |
| IKEA ČR, s.r.o., | Rudná 114 | +420 597 434 111 | www.ikea.cz |
| Kaufland, v.o.s. | Grmelova | +420 596 633 560 | www.kaufland-online.cz |
| Kaufland, v.o.s. | Buškovická | +420 596 740 483-7 | www.kaufland-online.cz |
| Kaufland, v.o.s. | Polská ulice | +420 596 966 530-1 | www.kaufland-online.cz |
| Kaufland, v.o.s. (shopping centre Karolina) | Vítkovická 3278/3 | +420 595 627 629 | www.kaufland-online.cz |
| INTERSPAR | Horní 283/87 | +420 597 310 011 | www.interspar.cz |
| MAKRO ČR, s.r.o. | Místecká 280 | +420 596 795 111 | www.makro.cz |
| OBI Market Ostrava | Výškovická 46 | +420 595 709 111 | www.obi.cz |
| SCONTO nábytek, s.r.o. | Grmelova 4 | +420 596 663 700 | www.sconto.cz |
| Tesco Stores ČR, a.s (Futurum Ostrava) | Novinářská 3178/6a | +420 596 666 111 | www.itesco.cz |
| Tesco Stores ČR, a.s (Hypermarket Třebovice) | Třebovická 5554 | +420 596 970 611 | www.itesco.cz |
| Tesco Stores ČR, a.s  (Hypermarket Hrabová) | Krmelínská ul. | +420 595 707 411 | www.itesco.cz |
| Albert hypermarket (Shopping Park) | Rudná 114 | +420 595 705 111 | www.ialbert.cz |