Thousands of new trees to be planted in Ostrava
From May 2013 to the middle of 2014, thousands of new trees will be planted in Ostrava – lime trees, maples, plane trees, oaks, birches, and various types of bush and shrub, all of which will help to reduce atmospheric pollution levels. The planting will take place as part of four separate projects, and will cost a total CZK 37 286 000. The majority of the cost (90 %) will come from EU funding, with the rest provided from the City's budget. Thanks to a public tender announced by the City, the final cost will be almost 60 % lower than originally anticipated.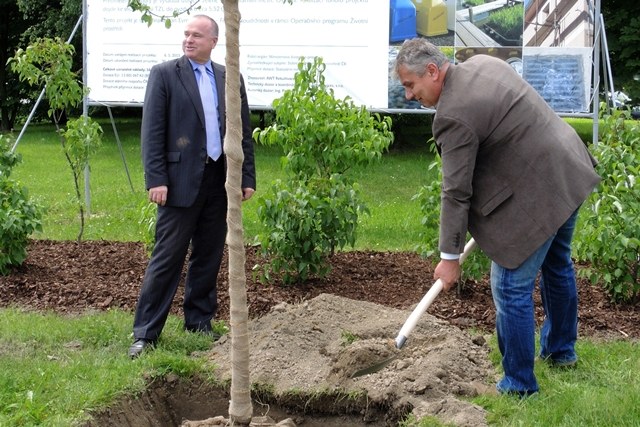 Photo: Andrzej Santarius from AWT-Rekultivace (left) and Deputy Mayor Dalibor Madej planting a tree in Ostrava-Třebovice
A total of 18 902 plantings (5460 trees and 13 422 bushes and shrubs) will be carried out over a total area of 69.7 hectares in the city centre, Poruba, Vítkovice and Ostrava-Jih. According to Pavel Šimek of Florart, who is responsible for the project, the plantings will affect a total of 160 locations in Ostrava. The project will also include the removal of old trees and bushes which are either unsuitable for their locations, damaged or in a poor state of health. City Authority Press Officer Andrea Vojkovská gave more information: "The planting and regeneration of so-called green screens will help to separate residential areas from transport corridors and industrial facilities – for example at Ruská, Opavská, Muglinovská, Místecká and Horní Streets, and near the sites of Vítkovice, ArcelorMittal and Dalkia." Dalibor Madej, Ostrava's Deputy Mayor with responsibility for environmental affairs, added: "These ecological projects will bring a reduction in emissions of solid pollutants by around 53.5 tonnes per year." The planting and subsequent maintenance will be carried out by two companies – AWT-Rekultivace and H-Rekultivace – which won the public tenders.