The winner of an international art competition for the Bazaly mural has been announced
The City of Ostrava has announced the winner of the art competition to find a design for the mural above the Bazaly stadium. Street artist Jan "Bogy" Lörincz will create an original work covering a concrete retaining wall with a total surface area of around 1000 m².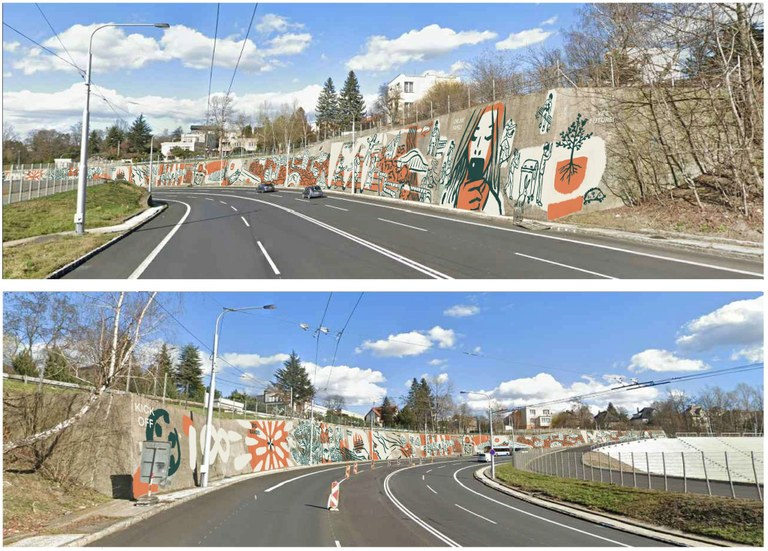 The competition received 11 entries, all of which explored the dramatic transformation of Ostrava and the Moravian-Silesian Region as well as commemorating the city's most famous sports club, FC Baník Ostrava. The club is celebrating its centennial this year, and it is intrinsically linked with the Bazaly stadium, where the team used to play its home games. The City of Ostrava organized the competition in conjunction with the Moravian-Silesian Region, which is the owner of the wall and will coordinate the implementation of the mural project.
"It all began with the first kick-off (100 years of Baník), followed by the Big Bang and the emergence of life. The fossil deposits surprised a prehistoric family at the Landek hill by burning – the rocks burn! The heat from the black rocks attracts people from far and wide. The vision of a better life. Underground exploration. Blinded by a red flag. A key to a new era, and Ostrava's present day."
That is how the artist Jan Lörincz (Bogy) describes his design, which was selected unanimously by the members of the jury as the winning entry in the competition. The originality of the design will be complemented by a fresh and original technique: the artist will use pigments made out of waste materials from construction and mining near the site of the mural itself.
The implementation of the project will be funded by the Moravian-Silesian Region, which owns both the retaining wall and the road that runs parallel with it. Repairs to the wall have already begun, so the artist will be able to start work in mid-July.
The Bazaly mural is not the only project of this type in Ostrava that will enhance and enliven the city's public spaces. A competition is currently being prepared for a mural that will be situated in a newly reconstructed pedestrian underpass at the Dřevoprodej tram stop. Work on the mural will begin when the reconstruction is complete, at the beginning of next year.