Ostrava to host travel blog conference
The Travel Blog Exchange (TBEX) is the world's largest conference and networking event for travel bloggers, online travel journalists, new media content creators, travel brands and industry professionals. This year TBEX is heading to Central Europe for the first time: the venue for TBEX Europe 2018 is Ostrava, whose Lower Vítkovice complex will host the event from 26–28 July.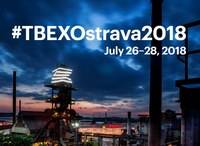 Ostrava's Mayor Tomáš Macura gave his reaction: "We are greatly looking forward to welcoming these creative digital gurus and hearing their reactions to our city. Ostrava has undergone a huge transformation during the past few years. We're very proud of our industrial heritage, and we certainly don't want to deny that tradition – but at the same time we're now moving in a completely different direction. We're becoming a creative, cultural, eco-friendly city that's attractive for citizens and visitors alike. Ostrava can already boast some of the Czech Republic's most visited tourist attractions – including the Lower Vítkovice complex, which is a candidate for UNESCO listing. Ostrava is also bidding for the prestigious title of European Green Capital 2020."
Last year Ostrava hosted a major World Health Organization (WHO) conference, as Mayor Macura recalled: "We were competing against Paris, and our bid succeeded. According to the delegates, the 2017 conference was one of the best ever – partly due to the fact that a large number of Ostrava's citizens were directly involved in a wide range of activities accompanying the main event. We are using the same approach with the TBEX conference, where local people will play a key role in making sure the event is a real festival." One of Ostrava's competitors in the bid to host TBEX was Madrid, but the organizers eventually chose Ostrava because they saw it as a more attractive destination offering better conditions for the event. The City of Ostrava has contributed 3 million CZK from its own budget to help fund the programme of TBEX-related events.
This July, just one week after the international multi-genre music festival Colours of Ostrava, the historic Lower Vítkovice complex will welcome over 600 conference delegates from all over the world – mainly North America and Europe, but also with strong representation from Asia and elsewhere. The President of the Moravian-Silesian Region Ivo Vondrák emphasized the importance of Colours and TBEX for the Region's economic development – particularly the growth of the tourism industry: "We are hosting two world-class events, which celebrate cultural diversity and bring together thousands of people from all over the globe in Ostrava's unique post-industrial setting. This represents a huge opportunity for both Ostrava and the Moravian-Silesian Region as a whole."
Most participants at TBEX are content creators working in new media (blogs, vlogs, podcasts), but around 20 percent of the delegates represent destination marketing organizations – including hotels, travel agencies, PR and marketing agencies, and traditional media publishers. The event is expected to generate around 20 000 contributions on various networks and 300 million impressions.
TBEX CEO Rick Calvert summed up the organizers' perspective: "For a long time the identity of the 2018 venue remained a closely guarded secret, but now we all know it's Ostrava, we can't wait for July to arrive. The TBEX community is sure to fall in love with Ostrava, the Moravian-Silesian Region, and Czechia as a whole. I expect the event to generate a huge level of global interest."
You can see a video on the TBEX conference (promoting the city and the region) here: https://youtu.be/Ownr_ZpwxDs