Ostrava gains upgraded rating
The international rating agency Moody's has recently awarded Ostrava the highest rating in the City's history – now increased from A2 positive to A1 stable. The upgrade comes just a year after Moody's raised Ostrava's rating from A2 stable to A2 positive.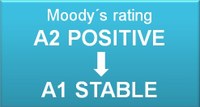 Ostrava's Mayor Tomáš Macura explained the importance of the rating: "We have reached the highest possible rating we can currently hold – we have the same rating as the Czech Republic, and no city can have a higher rating than the country in which it is located. This year we have moved up into the elite group – a step which recognizes our determination to manage the City's finances with prudence, efficiency and transparency. A rating is not just something that is nice to have – the higher our rating, the better our access to external sources of funding, and the lower the cost of borrowing."
Moody's has issued credit ratings for Ostrava since 1998; during this period the City's rating has gradually improved from Baa1 to the current A1. The only other Czech cities with an A1 rating are Prague, Brno and Prostějov. Ostrava's rating is even better than that of the Moravian-Silesian Region (which is A2 stable).