One of the squares in the City Centre has become more beautiful
The renovation of the space between Komerční banka and Prosperita Palace near Elektra tram stop is finished. New granite tiles, special lighting, new trees, street furniture and pillars for artwork are all in their places.
"We have taken practical steps proving that we care about the quality of the public space in Ostrava. We are gradually beautifying important places in the city according to our plans and proposals of the public. In this case, although we have beautified a relatively small area, it is one of the important gateways to the historic centre. It connects to the Msgre Šrámek Square with the Cathedral of the Divine Saviour. This square will also undergo revitalization in the future, based on the outcome of the 2017 architectural competition", said Mayor of Ostrava Tomáš Macura.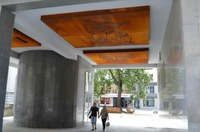 Special lighting will illuminate both tree crowns and places without much light. The renovation also includes the installation of columns for artwork exhibits. The first statues will appear on the stands within a few weeks and will be gradually changed thanks to cooperation with the Faculty of Arts, University of Ostrava.
According to the architect Ondřej Vysloužil, the author of the design, the renovation aimed to create an interesting meeting point.