New logistics centre planned in Mošnov
Plans to build a large multimodal logistics centre at the Ostrava-Mošnov Strategic Industrial Zone are near to becoming a reality. Construction work is set to be contracted to Consens Investments, representing the interests of DB Schenker – a subsidiary of Deutsche Bahn, one of the world's largest logistics companies. On 18 October Ostrava's City Assembly approved plans to sell the land to the developer.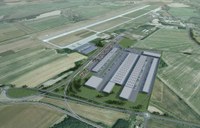 Visualization of the transshipment point at Mošnov airport. City of Ostrava Archives
The logistical component of the Ostrava-Mošnov Strategic Industrial Zone formed part of the project from the very outset. However, the developer HB Reavis, which was to build the logistics centre, was unable to find an end user. The City of Ostrava therefore stepped in and helped to promote the project at a number of major international investment events. These efforts eventually paid off, and the City has now found a major investor.
The Mayor of Ostrava Tomáš Macura gives more details: "We have agreed that the investor will come to Ostrava next month – when we will make the final decisions on specific contractual arrangements – and they will present their project to the public." According to currently available information, a large logistics centre will be built on almost 54 hectares of land near the Leoš Janáček Airport in Mošnov. The centre will handle all three modes of transport – road, rail and air. The warehouse areas and container transshipment point will cover around 155 000 square metres, and the value of the investment will be in the billions of CZK. The project will be implemented in four phases. First, a large factory hall will be built (50 000 m2); this should be completed by early 2021. The entire project will be completed during 2023.
Mayor Macura concludes: "We expect the project to substantially add to the value of Ostrava's airport, which is the only Czech airport with a direct link to the rail network. The new logistics centre will create strong synergic effects for companies already operating at the zone." The new centre will bring substantial benefits to the entire region.