New automotive invention by VŠB - Technical University of Ostrava
VŠB - Technical University of Ostrava has offered a unique device measuring the thickness of car rims for commercial use. The invention of the Faculty of Mechanical Engineering assures the quality of car wheels.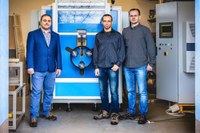 The new invention is able to detect car rim imperfections in production. It measures the thickness of the rims all over the surface, as opposed to the currently used point measurement. The result is a flawless car part that helps improve the vehicle's safety. The first device will be installed by an international company this year.
The device has been developed by a team led by Dr. David Fojtík of the Department of Automation and Control, Faculty of Mechanical Engineering, who spent 2 years working on the device.
The uniqueness of the new device lies in its ability to measure the thickness across the profile, quickly, with high precision and minimal operator demands. The undisputed advantage of the device is the reduced production of poor quality pieces, which can cost manufacturers millions. The device allows continuous monitoring of production quality with high precision and immediately responding to the detected deviations in dimensions, simply by correcting the parameters of the forming line.
Ostrava is the regional metropolis with a strong automotive industry base. Production plants of Hyundai, Kia, Fiat, Opel and Tatra are within 100 km from the city. Automotive suppliers with operations in Ostrava include Mobis, Plakor, Mahle Behr, Cromodora wheels, Varroc and others. Ostrava is home to development centres of Hella or Brose. A few days ago, Porsche Engineering Services also opened its branch here. The region produces nearly 3,500 cars per day.