Maryna and Alina Ivankova: We've been impressed by Ostrava's Expat Centre, which has helped us to meet other expats and promote our business
When creating Ostrava's new Strategic Plan, we haven't only been asking for the opinions of local people and those who've lived in the city for many years. We're also keen to hear the thoughts of expats – foreigners who may only have arrived in Ostrava recently, but whose international experience has the potential to make a huge contribution to our city's development. Among these expats are Maryna and Alina Ivankova from Ukraine – a mother and daughter who last year opened the "Royal Candy" cake shop in Ostrava city centre.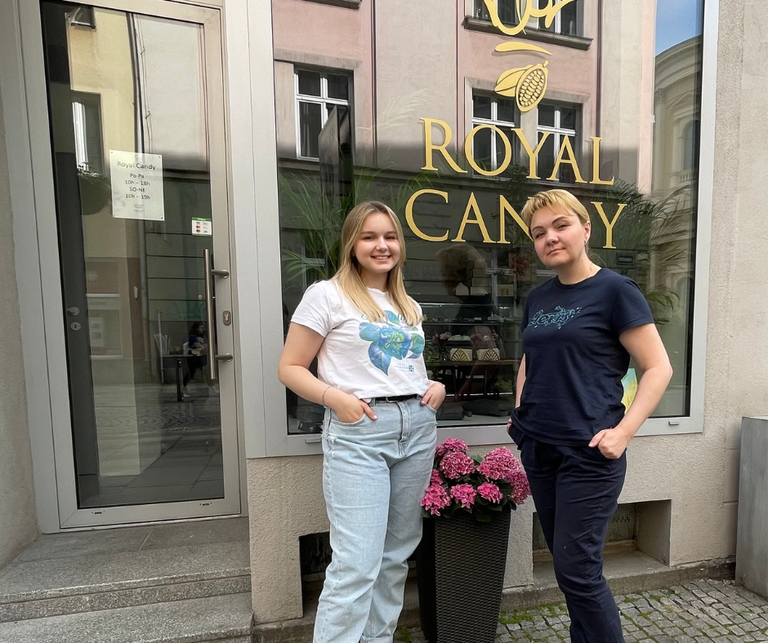 What is your personal story? What brought you to Ostrava, and why did you choose the city?
Alina: I've been living in Ostrava for five years. I spent my entire time at secondary school here, and now I'm a first-year student at the Technical University. Up to the 9th grade of primary school I lived with my family in Mariupol, but the situation there was becoming dangerous, and we started looking for a new home that would be safer – ideally outside Ukraine, in a place where I could continue my studies. At that time I already knew some people in Ostrava, so we arranged that I would come here to study. On my own, without my parents. I considered the possibility of studying in Prague, but there's a large Russian-speaking community there. I was keen to learn Czech, because I knew I wanted to continue my studies at university after graduating from high school, so that's why I chose to live in Ostrava: it was a place where I would basically be forced to learn Czech.
Maryna: I've only been in Ostrava for a year, and I moved here due to the war, and also because I wanted to be close to my daughter.

So you've lived in Ostrava for a while now. Can you tell us what you think the city's strengths are?
We like the city – it has various community events like the Christmas market, there are great parks and nature, and the historic city centre is very nice. We like the main avenue in Poruba, the nearby pond at the chateau, the Komenského Sady park, the Bělský Les forest, and the zoo. We've been impressed by Ostrava's Expat Centre, which has helped us to meet other expats and promote our business, as well as providing legal advice and enabling us to take part in the "Expats and Locals" exhibition. In comparison with some Ukrainian cities, Ostrava is a very comfortable place to live – it's not too large or too small, and the main places of interest are either within walking distance or just a few minutes' drive away. The transport situation is good: there are no real traffic jams, and the infrastructure is more advanced than in Ukrainian cities.
A big question is always how local people behave towards foreigners. What has been your experience here in Ostrava?
We feel good here – people are pleasant, and we've had positive experiences with fellow students and also teachers. Local people behave very well towards foreigners. We also appreciate the positive attitude of officials and other institutions that we came into contact with when we were starting our business.

You mentioned starting a business – you recently opened a cake shop. What were your experiences with doing that in Ostrava?
The first thing to say is again to highlight the assistance we received from the Expat Centre and officials, who were very helpful and willing to explain things to us several times if necessary. Looking at the authorities in the city and the municipal district, it's clear that they are keen to support new business in the city centre.

There must also be some negative aspects or barriers to doing business here, even in comparison with Ukraine.
The biggest barrier to the development of a business – not only in Ostrava, but in the Czech Republic as a whole – is the process for issuing permits, which takes a long time. For example, it takes around 60 days to get a permit to put chairs and tables outside the shop. Here, unlike in Ukraine, this period cannot be shortened, even for a fee. In Ukraine it's normal that if you pay a fee, the permit will be fast-tracked. Also, particularly from a foreigner's perspective, we lacked a kind of "guidebook" showing us what steps we have to take to set up a business – which regulations we have to comply with, which formalities we have to sort out, and so on.

Do you have any recommendations for supporting businesses here in Ostrava? Any more inspiration from Ukraine?
It's a shame that business-owners don't really share their experiences with each other (at least as far as we know). That would have helped us greatly in the early stages of setting up our business. It would be good if there was a specific person – an official from the public authorities or somebody from the private sector – who would assist foreigners starting up businesses. The service could be offered for a fee. We know from other Ukrainians who have arrived in Ostrava and the Czech Republic that there's great demand for such a service.

It seems that you're going to settle here in Ostrava, and your "Royal Candy" shop is attracting more and more customers. What do you think Ostrava should be like in 2030?
Ostrava is a beautiful city, and there are many positive aspects – the people are very pleasant, but there are still not many people who are active, who want to develop and introduce new things. Our wish for the future is that Ostrava should be more active, faster and more modern.

This text is an edited version of a structured interview that has been used as a basis for the analytical part of Ostrava's Strategic Plan presented under the fajnOVA brand.

Author: Jan Horák

Editor: Markéta Fialová