Faculty of Economics will have a new building
VŠB – Technical University of Ostrava is preparing a major change – it has decided to move its Faculty of Economics from the City Centre to the Poruba campus.
The campus is home to four of the seven University faculties and is linked to the Moravian-Silesian Innovation Centre (formerly Science and Technology Park Ostrava). The location of the campus is on the edge of Poruba, on a large area full of greenery, near a wood, with excellent transport accessibility and services for students. 
The new building should be connected to building H opposite the Centre of Advanced Innovative Technologies; next to it, an "academic square" should be built. Access to building H should also provide a link to other facilities such as the library, a large auditorium or the University canteen. For now, the Faculty is designed as a five-storey building. The entire relocation is scheduled for 2022, when the students and employees will move from the old building on Sokolská Street to the new one.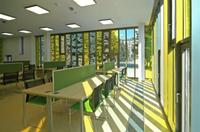 It is not just about the physical relocation – prof. Václav Snášel, the Rector of the University, believes in other benefits for the University: "The relocation should also help create closer relationships between the Faculty of Economics and other faculties of our University. This may be what will make it unique – that it will also offer interdisciplinary subjects or even entire study programmes."
Next year, VŠB – Technical University of Ostrava will celebrate the 170th anniversary of its founding. There are dozens of study branches at the seven technical, economic and natural science faculties. Thanks to its very close connection with practice, the University is linked to innovation and includes, for example, the IT4 Innovations National Supercomputing Centre or the Business Incubator. Every year, several hundred foreign students come to study at VŠB-TUO, which, together with international projects, promotes the internationalization of the University, the City and the Region.