Bikesharing in Ostrava
The City of Ostrava is encouraging citizens to become personally involved in helping to improve the environment, raising awareness of how each of us can play our own individual role. One of the ways in which Ostrava's citizens can actively contribute to a reduction in emissions – while also benefiting their own health and fitness – is by cycling rather than using motor vehicles. To ensure that everybody has access to bicycles, the City has joined forces with the Rekola company to launch a bikesharing project. As part of the project, 180 bikes are available to borrow from (and return to) 39 bike stations located at various points in the central part of Ostrava.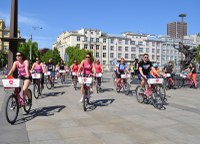 First ride May1
Ostrava's Mayor Tomáš Macura explained the importance of the scheme: "Bikesharing enables us to offer citizens and visitors a modern, eco-friendly form of transport. It will have a positive impact not only on the health of its users (cyclists), but also on quality of life for all Ostrava's citizens: cycling is a zero-emissions, low-noise form of transport, and it will help to reduce car use and improve traffic flow within the city centre. And what's more, cycling is more than just a form of transport – it's a lifestyle."
The bikesharing scheme will operate from 1 May to the winter. The precise locations of the bike stations can be found on this map.
Ostrava's citizens can also get involved in a national competition called Bike to Work, which is being organized by the Auto*Mat association and will last throughout May 2018. This annual nationwide event is being held for the eighth time. Its aim is to motivate as many people as possible to use cycling – or other non-motorized forms of transport, including walking or running – when commuting to work. If people stop using cars every day, they will soon feel a number of benefits. They will improve their physical fitness (and their mood), and they will also contribute to improvements in air quality – all helping to make the city a safer, more pleasant place to live and work. This year the City of Ostrava is involved in the competition for the first time, in the role of local coordinating partner. Participants can register up to 30 April 2018 – so don't delay, get pedalling today! Ostrava strongly supports cycling, and the city has an extensive network of cycle routes (around 250 km in total).