A new quarter will be built between Ostrava city centre and Vítkovice
A new city quarter for 12,000 people is set to be built in Ostrava, including a nature park, direct access to the Ostravice River, and a brand-new boulevard that will create a direct link between Ostrava's city centre and Lower Vítkovice.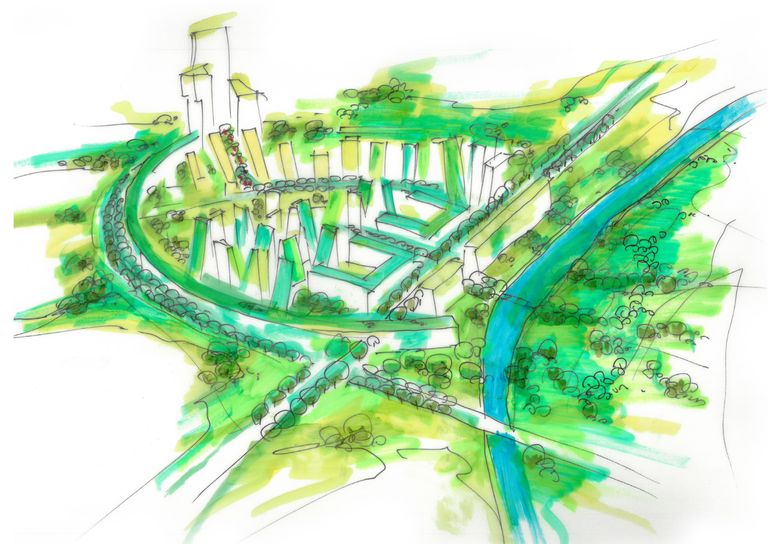 Scatch of a new city quarter - made by Roman Koucky
This is the long-term future of a brownfield known locally as "Pod Žofinkou", the former site of a 19th-century ironworks. The City of Ostrava and the owner of the land (the company Pod Žofinkou s.r.o.) recently gave a joint presentation of a conceptual study for the future utilization of this strategic location, drawn up by a consortium of urban planners and architects (4ct/koucky-arch.cz/Sendler/Špilar).
The site is bordered on two sides by railway lines and on one side by the Ostravice River. At present it is closed to the public, so it represents a substantial barrier to movement in the area. The optimum scenario as outlined in the conceptual study is for the site to eventually serve up to 12,000 new users (including around 7,600 permanent residents). The brownfield will be redeveloped for multifunctional use – with a combination of residential units, offices and services.
Bisecting the new quarter will be a mile-long boulevard with tram lines running along it, which will create a direct link between Ostrava's city centre (Smetanovo náměstí) and Lower Vítkovice. This means that the project will ultimately have a positive impact far beyond its own boundaries.
On 18 June the Gong auditorium in Lower Vítkovice hosted a debate about the future of this development zone. Representatives of the city, the authors of the conceptual study, and other guests presented their shared vision for the future development of Ostrava's wider urban core.