Work on Ostrava University's new campus is in full flow
The new campus for the University of Ostrava will occupy a site of almost 4 hectares in the heart of Ostrava's city centre. The site – which is currently vacant – is located at Černá Louka (Black Meadow) near the Ostravice River. The development will create a brand-new sports centre and facilities for art and music teaching.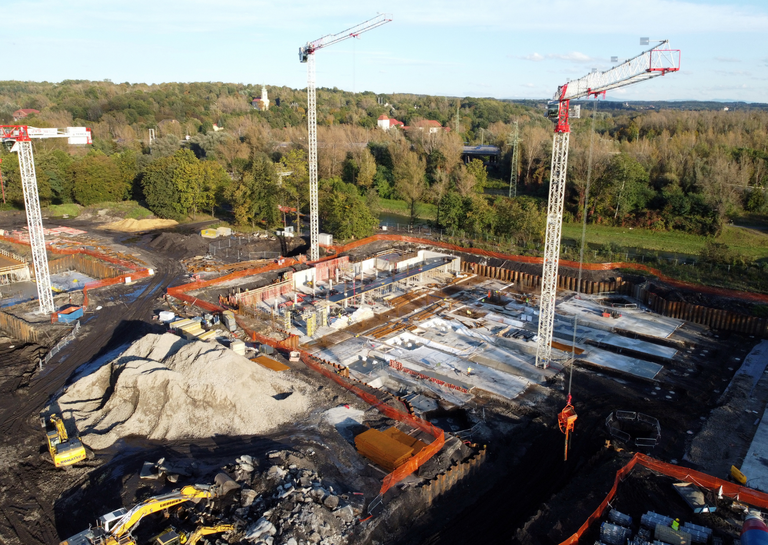 Work on Ostrava University's new campus. Photo: Boris Renner
The campus project will also include a complete revitalization of the riverbank area, creating an exciting new space for recreation and leisure activities.
The work is being carried out by a consortium consisting of the Ostrava branch of IMOS Brno and the building contractor Beskydská stavební. The consortium has recently documented current progress on the project in a video which shows the various parts of the new campus that are scheduled for completion by 2022: these include a gallery with multimedia teaching rooms and an art studio, a chamber music hall with a capacity of 250 people, scientific laboratories, an athletics track, a ball games centre, a workout area and more.
The City of Ostrava has made a major contribution to the project, donating land worth around 42 million CZK in a highly lucrative location. The City will also pay for the construction of an underground parking garage with space for 155 cars, which will be used both by the University and (primarily) by the general public. The City has also helped at the pre-financing stage, contributing to the costs of producing project documentation and other expenses.
Ostrava's Mayor Tomáš Macura explained why the City supports the project: "It's essential for Ostrava to have first-class education facilities – not only for technical studies, but across all fields. This project is a response to that need. That's why we've offered strong support to the project; we've pre-financed the project preparation phase, and we've also donated the land and carried out technical preparatory work, as well as building an underground parking garage which will form part of the complex and will serve both the university and the general public."