Unique logistics centre being built in Mošnov
A new multimodal logistics centre outside the Ostrava Airport can become an important transshipment terminal of the "New Silk Road" Concens Investments is building a giant Ostrava Airport Multimodal Park in the immediate vicinity of Mošnov Airport, investing several billions of korunas.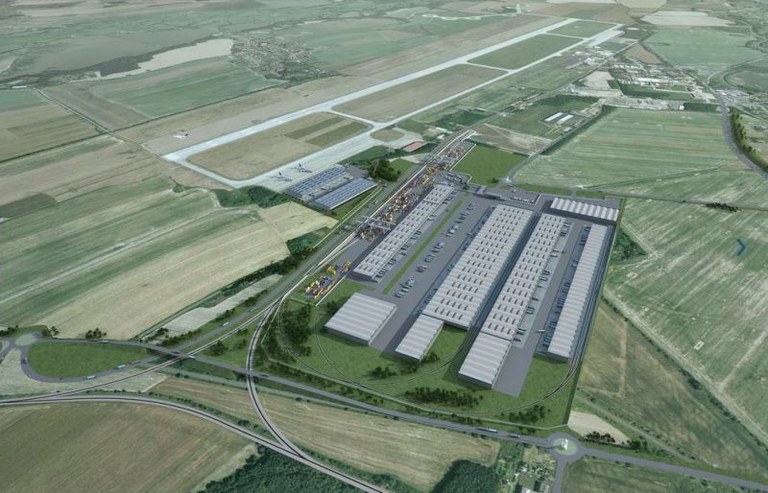 "We have already acquired all necessary building permits, and the earthwork began in February", says Tomáš Budař, managing director of Concens Investments. The total area of the centre will be 52 hectares and will offer companies 240 thousand square meters of land. "The park will have a great deal of variability; the halls can be used for storage and manufacturing, and future tenants can combine road, rail and air freight, which will be quite unique not only in the Czech Republic but also in Central Europe", adds Budař.
The first company to publicly announce its plan to rent space in the multimodal centre in Mošnov is DB Schenker, one of the largest carriers in the world. The Deutsche Bahn's daughter revealed her step last autumn.
The construction of the complex should take place in four stages. The first hall will be ready in September this year, with the start of operation planned by the end of the year. The final stage should end in 2023.
Although several logistics centres have been created in the Czech Republic in the last few years, Mošnov will be unique thanks to its size and above all by bringing together air, railway and road transport in one place. This presents great benefits for companies in the cargo business. The container terminal will be able to receive freight trains up to 700 meters long. Trains can also get very quickly to the main railway corridor through Studénka.
Another advantage is that the Mošnov Airport has a 3.5km long runway. This is why it is one of the few Czech airports where the world's largest cargo aircraft can land.
For example, the airport is used by the giant An-225 Mrija carrying military technology.
The location of the Mošnov logistics centre also fits into the project of the "New Silk Road". It is a network of roads, railways, ports, oil and gas pipelines to facilitate trade between China and Europe. A total of sixteen countries, including the Czech Republic, joined the system on the old continent. According to the plan that China's President Xi Jinping announced in 2013, USD 900 billion could be invested in the successor to the ancient business link.
How the Mošnov logistics park will fit in the new Silk Road project will be clear in a few years. However, it is obvious that the storage and production halls in Ostrava airport may not be important only for the region but also for the whole country.