The first phase of construction work at Ostravica-Textilia is complete
The reconstruction project at the former Ostravica-Textilia department store has now entered its next phase. The investor (the developer Ivančice property a.s.) and the general building contractor (Bystroň Group a.s.) recent gave a progress update, including an outline of the work planned for the upcoming winter months, which will focus mainly on the interiors. Monitoring inspections are held on a weekly basis to ensure that the construction work is proceeding as planned and to the required quality.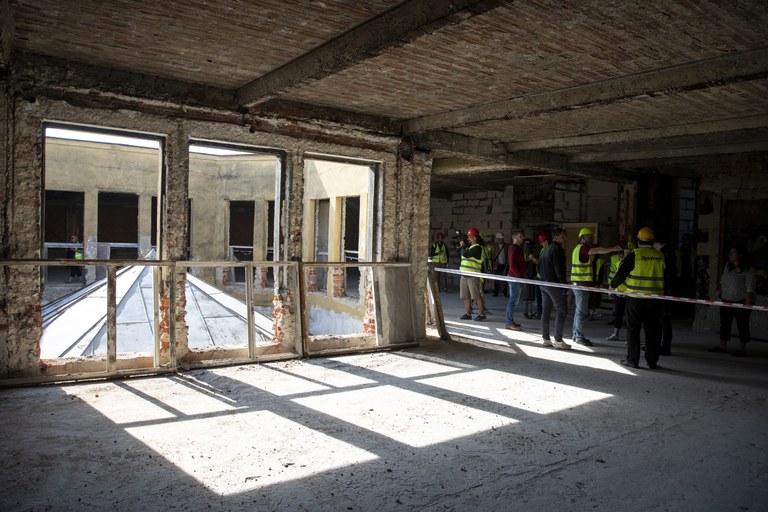 As part of a recent monitoring visit, representatives of the City inspected the site and assessed the contractor's progress on repairing the interiors of the building – a legally protected heritage site. This is the last phase of the reconstruction during which the basic structural skeleton is still fully visible; this was a key reason why the contractor invited City representatives to visit the site at this stage. Representatives of the contractor and the architects responsible for the reconstruction project gave detailed information on the surface finishing work planned in the various parts of the complex, including what will be done with the most historically valuable elements of the building.
Bystroň Group began work at the site exactly five months ago, on 7 April 2022. After more than two decades during which this historic department store lay abandoned and derelict, the current owner of the building (Ivančice property a.s.) finally launched a complete reconstruction of two parts of the complex – the Textilia department store (built in the late 1920s to a design by the avant-garde Berlin architect Marie Frommer), and the 1911 residential and commercial building designed by the Moravian architect Felix Neumann.
The third part of the complex – the former Commercial and Industrial Bank building – is in different ownership. The owner has now taken the first step towards the eventual restoration of the building, having carried out a historical survey of the façade. A brand-new extension will be built on the vacant lot (28. října Street, opposite the Hotel Imperial). The new extension will contain residential units, and the original bank building will be converted into a hotel.
Photo: Business Boutique Interier