Ostravian Mounted Police collected medals
Representatives of mounted police from the entire Czech Republic, Poland and this year also from Italy, competed together on Saturday 27 August in the ​​Orchards of Comenius area at XIV.Annual International meeting of mounted police driving in three competition disciplines - show jumping, jumping, mirror jumping and the main discipline, the police jumping. On behalf of Ostrava city, the sports action launch and evaluation participated the Deputy Mayor Ales Bohac.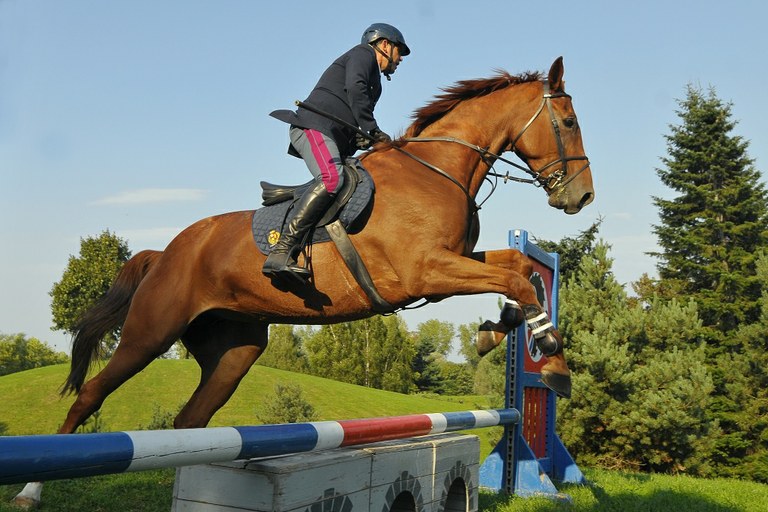 The photo: a beautiful horse led by experienced rider
Police officers had with their horses in a large heat overcome burning obstacles, take the canvas wall, face a huge rolling ball, horses were not allowed to respond to explosions or bangs on the side walk along the marked route,  all on time and under risk of penalty points, which were added in final evaluations. In three of these competitions individuals trying to obtain a Cup of  Director of the Metropolitan Police in Ostrava, Ostrava Mayor's  Cup and Cup of the Moravian-Silesian Region. The greatest successes celebrated mounted police of Ostrava. They won two firsts of three competitions, adding a silver and a bronze. Competition in cross-jumping best defeated Ostrava police officer Daniel Orság with a horse Solo Romy, jumping in mirror pairs won Emiliano Scipioni with a horse Cezanne from Italy and a special police jumping won Libor Zedníček with a horse Solo Macarena of  Metropolitan  Police of Ostrava. The title of Metropolitan police champion 2011 in the Czech republic also won the  Daniel Orság of Ostrava.
Measurement of forces mounted police officers and their horses, which presented their art skills and compete in all the difficult situations they are facing while on duty, was a wonderful show for many viewers. For those was the rich accompanying program prepared.
Results:

Cross jumping:
1st Orság Daniel with a horse Solo Roma, MP Ostrava
2nd Jaroslav Ruda with the horse Kadavu, MP Pardubice
3rd Mariusz Micek  with a horse Bunondol, Chorzow, Poland

Mirror jumping pairs:
1st Scipioni Emiliano with horse Cezanne, Italy
2nd Zedníček Libor horse with Marcus, MP Ostrava
3rd Andrzej Sikora with the horse Dummy, Poland Częstochowa

Special police jumping:
1st Zedníček Libor with a horse Solo Macarena, MP Ostrava
2nd Jahranek Karol with a horse MOLEDA, Chorzow, Poland
3rd Orság Daniel with a horse Solo Roma, MP Ostrava