Ostrava has been voted the region's friendliest local authority for the fifth time
This year's "Friendly Local Authority" competition featured 130 Czech municipalities and Prague municipal districts. Run by the Interior Ministry, the competition has been held annually for the past 8 years. Its purpose is to identify which towns and cities are best at communicating with their citizens and providing user-friendly services.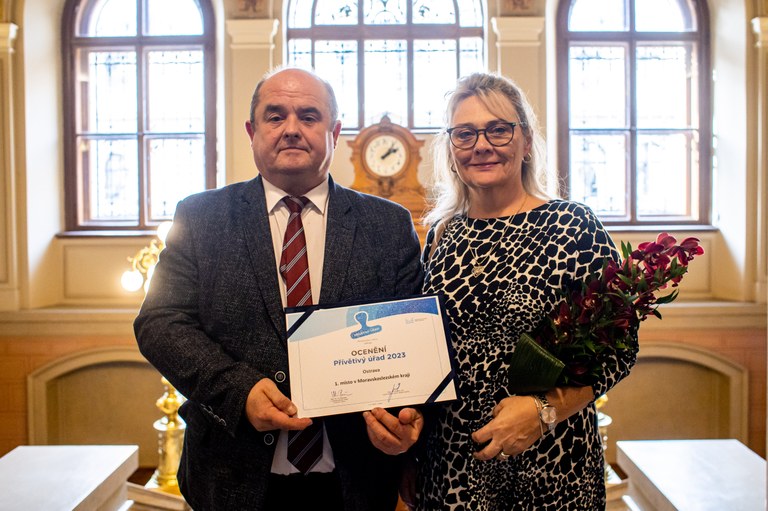 Ostrava's award was accepted by the Head of the Internal Affairs Department Marcela Trojáková and the Head of the Driver and Traffic Administration Department Dalibor Mozdřeň. Photograph: Ostrava City Authority
The competition showcases examples of good practices, which can provide inspiration to other municipal authorities. Ostrava has won the award for the friendliest local authority in the Moravian-Silesian Region for the fifth time. The second-place award for the region was taken by Kopřivnice, and the third prize went to Opava.
Ostrava's Mayor Jan Dohnal reacted to the news: "I'm delighted that our authority has been judged to be the best in the region, and that for many years we have been providing a comprehensive range of high-quality services – as reflected in the fact that we have won the regional award for the past five years. It's a deserved tribute to the outstanding work done by our staff, who provide an excellent quality of service to the public. I'd like to thank all the staff who have contributed to this superb achievement. Nevertheless, we continue to work hard to improve our services even more; for example, two weeks ago we launched a new data portal that offers fascinating information about various aspects of our city."
The awards ceremony was held on 1 November 2023 in Prague, along with the launch of an accompanying publication entitled "Friendly Local Authority – Examples of Good Practice". The publication presents 24 examples from various towns and cities across the country. The judges evaluated a wide range of criteria, including openness and accessibility, the use of electronic communication, and the option to book appointments in advance. Another key factor was communication, as the judges assessed the standard of municipalities' websites, the opportunity for members of the public to contribute to decision-making processes on their city's future, and a number of other related criteria.