New Mošnov terminal offers a unique combination of road, rail and air transport
A unique new combined transport terminal has now opened at Ostrava Airport Multimodal Park, part of the Mošnov Industrial Zone. The terminal will facilitate the shift away from road transport and towards rail freight.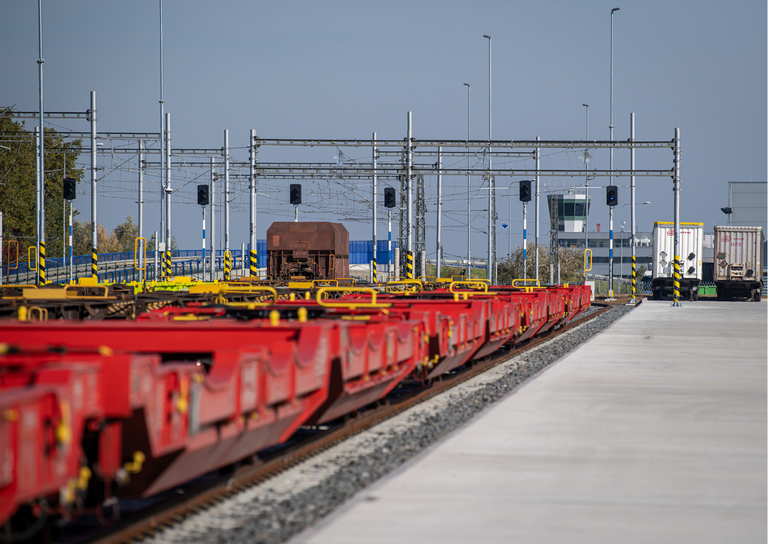 New Mošnov terminal, photo by Lukáš Kaboň
Combined with the warehouse facilities and production units at the Mošnov Industrial Zone, the terminal will help improve efficiencies in logistics processes while also minimizing negative environmental impacts and boosting the future development of business activities throughout the region.
Construction work at the Mošnov terminal began in September of last year. Attending the opening ceremony were the Governor of the Moravian-Silesian Region, the Mayor of Ostrava, and representatives of the developer OAMP Holding, who jointly signed a Memorandum of Cooperation setting out their commitment to coordinate their efforts in order to attract a major new strategic investor to the zone. The new terminal will bring substantial economic benefits and an influx of new investments not only to Ostrava, but to the region as a whole.
Ostrava Airport Multimodal Park (OAMP) covers an area of 81 hectares, and when construction work is complete it will offer more than 353,000 m2 of logistics, manufacturing and office premises. The developer plans to use a further 51 hectares of neighbouring land as part of the projected future enlargement of the OAMP complex and the arrival of a strategic investor. At present, this is the only industrial park or zone in the Czech Republic that offers such a comprehensive range of different transportation modes: Mošnov is truly unique in its seamless integration of rail, road and air transport.