INFORMATION ON CORONAVIRUS IN OSTRAVA
The Czech government has announced a state of emergency which came into effect on 12 March 2020 and will last until 30 April. Movement of persons is limited throughout the country. The borders of the Czech Republic are closed. Most markets are closed, retail sales are also restricted.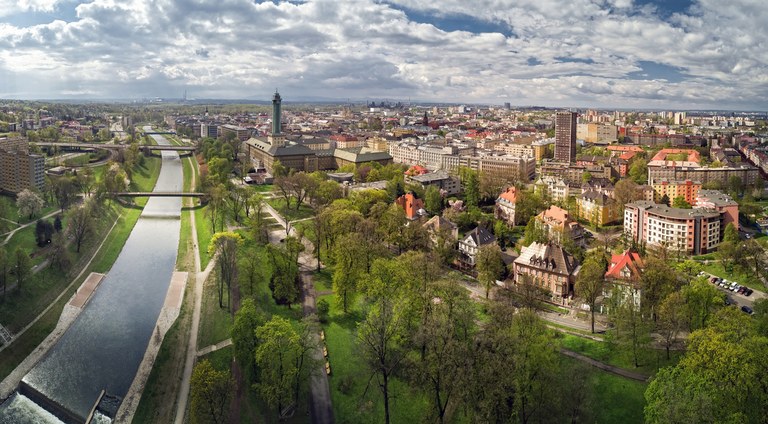 The City of Ostrava
Phone lines
The following phone lines have been set up for people who feel they have the symptoms of COVID-19 (fever, cough, difficulty breathing, muscle pain, tiredness). IMPORTANT: it is not possible for individuals to decide to have themselves tested for COVID-19 infection. Testing is ALWAYS at the suggestion of an epidemiologist following a consultation with the potential patient. Testing is ONLY carried out if there exists a suspicion that an individual might be infected. Preventive testing is NOT carried out.
New coronavirus info line: 1212
NON-STOP info lines of the Regional Public Health Authority: 595 138 118, 595 138 119, 595 138 147
NON-STOP emergency line 112, staffed by two doctors – please do not call 155!
Green Line 800 199 922 – this line exists to provide information and advice. It is staffed by officers of the Ostrava City Police Force. Among the services available on the Green Line, officers will handle requests by seniors who are living alone and in self-isolation (quarantine); in necessary cases these requests will be passed on to the ADRA charitable social services organization. ADRA volunteers can buy essential foods, household goods and medicines. You can also call the Green Line if you have other questions.
Detailed information can be found on these websites
Information on the current number and location of individuals with coronavirus in Ostrava and the whole of the Moravian-Silesian Region is published on the website of the Regional Public Health Authority www.ksova.cz .
Restrictions on the movement of persons
The Czech government has issued an order prohibiting groups of more than two people from being present in public spaces (except for members of the same household and situations in which larger groups are necessary for professional/occupational reasons, business purposes or similar purposes, and for attendance of funerals). The order also requires people to maintain a distance of at least 2 metres from other people if possible. It applies in conjunction with an earlier order issued by the government, which states that the government prohibits the free movement of persons throughout the entire territory of the Czech Republic, with several exceptions: e.g. journeys to and from work, family members, doctors, or for purchases of essential items. The ban does not apply to journeys undertaken for official purposes that cannot be postponed. It does not apply to movement outside built-up areas or in parks. Attendance of funerals is not prohibited, and the restriction does not apply to public transport or public services including deliveries to homes and institutions or veterinary care.
On Tuesday, 7 April 2020,
restrictions on sporting activities imposed in the Czech Republic were eased. People now have the opportunity to play individual sports outdoors, while runners and cyclists no longer have to cover their mouths and nose unless they are in crowded areas.
On Thursday, 9 April 2020,
construction services, hardware and bicycle repairs will be reopened. There will also be a NEW RULE regulating the social distance of two meters in shops. This does not apply to relatives or auxiliary seniors.
On Tuesday, 14, April 2020,
on Tuesday, Czech government presented schedule of loosening some rules for business and other activities. Please notice that this schedule is only preparative and it will be used only if there comes not any worsening of epidemic situation. See the green table HERE. There are also up-to-date information on major changes to travel restrictions to prevent COVID-19!! Please see the FB of the Center. Source: Center for the Support of the Integration of Foreigners - Moravian Silesian Region
Face masks
It is prohibited to be present in public places without covering your mouth and nose. This order applies from midnight on Wednesday 18 / Thursday 19 March. You can use face masks, scarves or similar items.
The first vending machines selling face masks and other protective medical items were installed in Ostrava on Monday 6 April. On Tuesday 7 April the machines were stocked up with face masks, single-use sterile gloves, and disinfectant gels. They are available to the public at 21 locations throughout the city.
Companies offering home deliveries of shopping
A special two-hour window for seniors
Seniors have a special two-hour window for shopping and postal services reserved for them. Grocery stores, household goods shops and post offices now have a reserved window from 8 a.m. to 10 a.m. during which only people over age 65 are allowed to enter. Outside this 8–10 a.m. window, seniors can of course enter shops and post offices at other times if they wish, but it is recommended that they should avoid doing so, as they are a particularly vulnerable group.
Restrictions
Restrictions on retail sales, closure of casinos and gambling premises
The following activities are PROHIBITED:
1. with effect from 6:00 a.m. on 14 March 2020, ALL RETAIL SALES OF GOODS AND SERVICES FROM PUBLIC PREMISES, with the following EXCEPTIONS:
food (groceries),
IT and telecommunications equipment, audio and video equipment, consumer electronics, household appliances and other household equipment,
vehicle fuel,
other fuels,
hygiene products, cosmetics, other household products,
pharmacy products, medicines and medical products,
small pets,
pet food and other products for pets,
glasses, contact lenses and other related goods,
newspapers and magazines,
tobacco products,
dry cleaning and laundry services,
internet sales and other remote sales – the goods and services sold must be predominantly sold or offered for sale at the premises
From Thursday, April 9, 2020, they are OPEN AGAIN:
hobby markets
hardware stores
stores and repair of bicycles
2. with effect from 6:00 a.m. on 14 March 2020, the  PRESENCE OF MEMBERS OF THE PUBLIC IN ESTABLISHMENTS SERVING FOOD AND DRINK, with the EXCEPTION of establishments not open to the general public (e.g. employee canteens, canteens for health care/social services providers, prison canteens); this prohibition does not apply to sales of food/drink off the premises (e.g. fast food outlets with street windows, sales of takeaway food without public access to the premises), which may remain open without time limitations,
3. with effect from 6:00 a.m. on 14 March 2020, the OPERATIONS OF ESTABLISHMENTS SERVING FOOD AND DRINK located IN SHOPPING MALLS and SHOPPING CENTRES with a sales area greater than 5 000 m2,
4. with effect from 6:00 a.m. on 14 March 2020, the OPERATIONS OF CASINOS and GAMBLING PREMISES as defined in Act no. 186/2016 Sb. on gambling, as amended.
Border control measures
From 16 March 2020, citizens of the Czech Republic are prohibited from leaving the Czech Republic and citizens of other countries are prohibited from entering the Czech Republic (with the exception of those persons who have permanent or temporary residence in the Czech Republic). Until this prohibition comes into effect, the Czech government prohibits entry to the Czech Republic by all non-Czech citizens arriving from high-risk areas (with the exception of persons who have permanent residence or temporary residence over 90 days in the Czech Republic), unless the entry of these persons is in the interests of the Czech Republic. The government has also stopped accepting visa applications and has suspended visa application procedures for those applications already submitted.
Compulsory quarantine (self-isolation)
Persons arriving in the Czech Republic from high-risk areas must contact a doctor (general practitioner) after arriving in the country and must remain in self-isolation (quarantine) so that they do not pose a risk to others. High-risk areas are the following: China, Iran, Italy, South Korea, France, Spain, Germany, Switzerland, Norway, Denmark, the Netherlands, Sweden, the United Kingdom, Belgium, Austria. Persons in quarantine (self-isolation) are entitled to receive sick pay. See here for instructions on how to behave while self-isolating.
Prohibition of school attendance
The prohibition of school attendance applies to primary, secondary and higher education institutions, art schools, language schools, and language courses. It also applies to hobby groups, school competitions and school events. The prohibition does not apply to preschools (nursery schools).
Prohibition of visits to hospitals and social care institutions
The prohibition applies to visiting patients in hospitals (with the exception of children's wards, where one parent may visit), care homes for seniors, and social institutions for children and adults.
Public events
Until further notice, all public and private events (cultural, sporting, social, religious, educational, other) attended by more than 30 people at any one time are prohibited. This prohibition also applies to fairs, festivals, and tastings, as well as for gyms and fitness centres, swimming pools (outdoor and indoor), wellness centres, saunas, public libraries and galleries.
Other public outdoor sports facilities in Ostrava remain open; it is essential to comply with the maximum number of attendees, and although toilets will be open, showers and changing rooms will be closed. Ostrava Zoo also remains open, though entry is limited to indoor spaces and attendance will be regulated to ensure that large groups of visitors do not form.
Driving schools
Practical driving tests will not take place for a period of one month.
Markets are closed until further notice.
Visits to prisons are prohibited.
Health insurance companies' information lines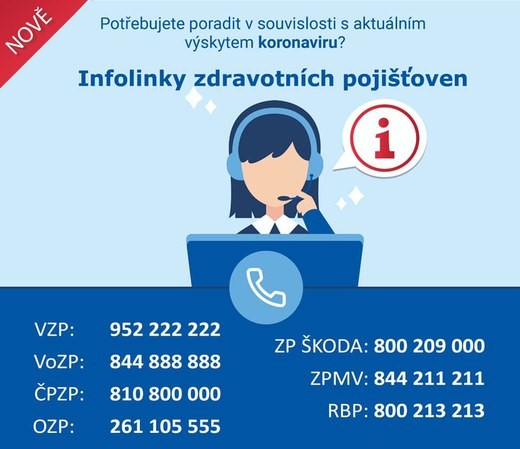 Overview of government resolutions and orders (pdf)
Summary of the situation in Ostrava
The City of Ostrava, in conjunction with the Regional Public Health Authority, the Moravian-Silesian Region and other institutions, is coordinating a range of preventive measures designed to eliminate risks associated with the possible spread of the new coronavirus. The City Council and the City's Crisis Team meet regularly for this purpose.
On 3 March, the City preventively introduced a ban on visits to Ostrava City Hospital and institutions run by the hospital, as well as senior citizens' care homes and other social care institutions established by the City of Ostrava. Hygiene-related measures were introduced in Ostrava public transport vehicles, at preschools and primary schools, at Ostrava City Hospital, at premises of the Ostrava City Authority, and in the offices of the municipal districts.
On Wednesday 3 March, Ostrava's City Assembly freed up reserves of 5 million CZK to fund crisis measures. The Assembly also granted additional powers to the City Council, enabling it to respond more flexibly to future requirements connected with the coronavirus outbreak. If needed, this sum will be used to purchase medical materials for front-line workers – especially doctors, police officers, social workers and firefighters. The City of Ostrava remains in constant contact with the Integrated Emergency Response System as well as with the municipal districts and relevant institutions and companies.
City information centres, galleries, the Ostrava City Museum, the zoo, the Ostrava´s cultural and sports facilities and hotels operated by the City are closed.
Services to the general public
Ostrava City Authority has adjusted its opening hours. In response to the restrictions on movement imposed by the Czech government, the City of Ostrava has changed its opening hours. The offices of the City Authority are open to the public on Wednesdays from 2 pm to 5 pm and on Mondays from 8 am to 11 pm. Clients will only be served if they have booked an appointment in advance using the City's electronic reservation system or by telephone on the City Authority's contact line (844 12 13 14). Outside these hours, the City Authority will be closed to the public. If your national identity card or passport expires after 1 March, it will still be treated as officially valid within the Czech Republic. The same applies to expired driving licences during the state of emergency. More details here (pdf).
On April 8, the Czech Point branch was reopened on the ground floor of the New Town Hall. It is open on Mondays from 8 am to 5 pm, on Wednesdays from 8 am to 5 pm and on Thursdays from 8 am to 4 pm. The entrance is a side gatehouse. All clients must wear a mask, scarf or similar item. If you need to verify or handle something, look here. Other municipal offices continue to have office hours on Mondays morning and Wednesdays afternoon.
!!! IMPORTANT INFORMATION !!! Due to necessary preventive measures taken by Ostrava City Authority, as well as the government-imposed restrictions on movement, it is not possible for the City Authority to perform some of its activities as part of official administrative procedures, as it is not possible for participants in these procedures to exercise their full range of rights (e.g. by personally viewing official documentation connected to the procedures). For this reason, official administrative procedures may be delayed – though such delays are unavoidable due to the state of emergency and the restrictions imposed by the government.
Business Registration Office – contactless services. Due to necessary preventive measures taken by Ostrava City Authority in response to the government-imposed restrictions on movement, the Business Registration Office (Živnostenský úřad) at the City Authority is handling all applications in a contactless regime. We therefore recommend that our clients submit applications in electronic form:
from the client's data box, addressed to the data box of the City of Ostrava (ID DS 5zubv7w)
to the City of Ostrava's e-mail address for official correspondence mailto:posta@ostrava.cz(please note that documents submitted via this e-mail address must have a recognized electronic signature)
If the client does not have a recognized electronic signature or a data box, it is possible to submit notifications/applications as follows:
during the national state of emergency by normal e-mail, without the need for a recognized electronic signature. In accordance with legislation on business registration, notifications of new business activities and applications for trading licences must be submitted in the single registration form
notifications/applications can be submitted by post, addressed to the Business Registration Office at Ostrava City      Authority: Magistrát města Ostravy, Živnostenský úřad, Prokešovo nám. 1803/8, 702 00 Ostrava - Moravská Ostrava, Czech Republic
notifications/applications can also be delivered by hand into the postboxes at the right or left reception desks at the      address given above, but only during public opening hours (Mondays 08:00–11:00, Wednesdays 14:00–17:00)
The necessary forms are available here: www.rzp.cz
General inquiries regarding business registration and trade licensing can be sent to zu@ostrava.cz, or can be dealt with by telephone via the City of Ostrava Contact Centre: tel. 599 49 93 11, tel. 844 12 13 14 (special tariff offered by the City's partner Bluetone), or tel. 599 443 148.
Support for small businesses
The City of Ostrava has prepared a package of measures for small businesses which have been unable to operate as a result of the special restrictions imposed by the government due to COVID-19. These measures are: postponement of due dates for rent payments, waiving of rent payments, rapid financial assistance (up to 20 000 CZK), a special subsidy programme (up to 100 000 CZK). The first group of small business owners received this assistance on 25 March. More details.
Children care
We are looking after the children of front-line workers in the fight against the virus. The City of Ostrava has introduced a care plan for the children (ages 3–10) of employees of the national and city police forces, firefighters and paramedics, health service providers, public health authorities, and the armed forces. More details.
Senior care
We are helping seniors living alone and people in self-isolation (quarantine). The City of Ostrava, in conjunction with the ADRA charitable social services organization, has begun helping isolated seniors and people in self-isolation (quarantine) who lack a natural network of social contacts and cannot rely on assistance from family, neighbours, friends or acquaintances and who are unable to purchase food in another way, e.g. via the internet. More details.
OZO recycling centres
OZO recycling centres are in restricted mode. Citizens can order selected services through eshop.ozoostrava.cz. The regular collection of waste throughout the collection area of OZO takes place without restrictions. Newly, since 2 April, recycling centres have been operating in a limited regime. More info.
City public transport
From Friday 13 March, Ostrava's City Public Transport Corporation (DPO) suspended the normal system of entry to buses after 8 p.m., in which passengers must enter by the front door and the driver may check their tickets. This system no longer applies. In another change, vehicle doors will now open automatically at all stops, so that passengers do not have to press the door buttons. All vehicles are being disinfected more frequently (including ozone treatment), and all vehicles are being thoroughly aired at each terminus.
The frequency of services is restricted.
Ticket sales centres are closed. Passengers should purchase long-term tickets (season tickets) via the e-shop at www.dpo.cz/eshop. Alternatively, it is possible to pay after boarding the vehicle using contactless bank cards, credit tickets, or electronic wallets of the ODIS integrated transport system, or you can pay before entering the vehicle via an SMS ticket or using the MojeDPO mobile app. Credit tickets are contactless cards that can be purchased from the blue ticket machines located at several busy public transport stops in Ostrava.
Ostrava Expat Centre
Despite the temporary restrictions and the necessary social distancing, the Ostrava Expat Centre keeps working online. While the Expat Center's Office is physically closed to the public and clients, the OEC team members are ready to quickly respond to the expats' needs via email info@ostravaexpat.eu, or via FB Messenger. You can contact us any time or subscribe to our monthly Newsletter. In addition, we hold regular moderated Online Community Meet-Ups that anyone can participate in and share their current needs or feelings, or simply stay in touch. Furthermore, on our FB we bring up-to-date information including Live Streams with experts from various fields. Please see our Facebook@ostravaexpatcentre.
Center for the Support of the Integration of Foreigners
Center for the Support of the Integration of Foreigners - Moravian Silesian Region, has not during an emergency measures interrupted its activities and works during standard opening hours. At the moment, personal contacts with foreigners are limited, but employees of the Center provides counseling via phone, email or social networks. The Center also provides an information service for foreigners on the latest regulations, rights and obligations in connection with emergency measures in various languages. Center also provides service for the state administration or self-government.
About the new coronavirus
The new coronavirus SARS-CoV-2 causes the illness COVID-19. Other well-known coronaviruses include SARS (which began to cause epidemics around 2003) and MERS (known since 2012).
COVID-19 began to spread at the end of last year (2019) from the Chinese city of Wuhan. The infection was passed from person to person via respiratory droplets. Most frequently it affects the respiratory system. According to current knowledge, the incubation period can be up to 14 days. Symptoms may occur in various degrees of intensity, and are similar to the normal symptoms of respiratory diseases. They include high temperature (fever), coughing, difficulty breathing, or general physical weakness. According to current knowledge, symptoms remain relatively mild in up to 80% of cases. Complications generally appear in seniors or people with chronic underlying conditions; these are the major risk groups.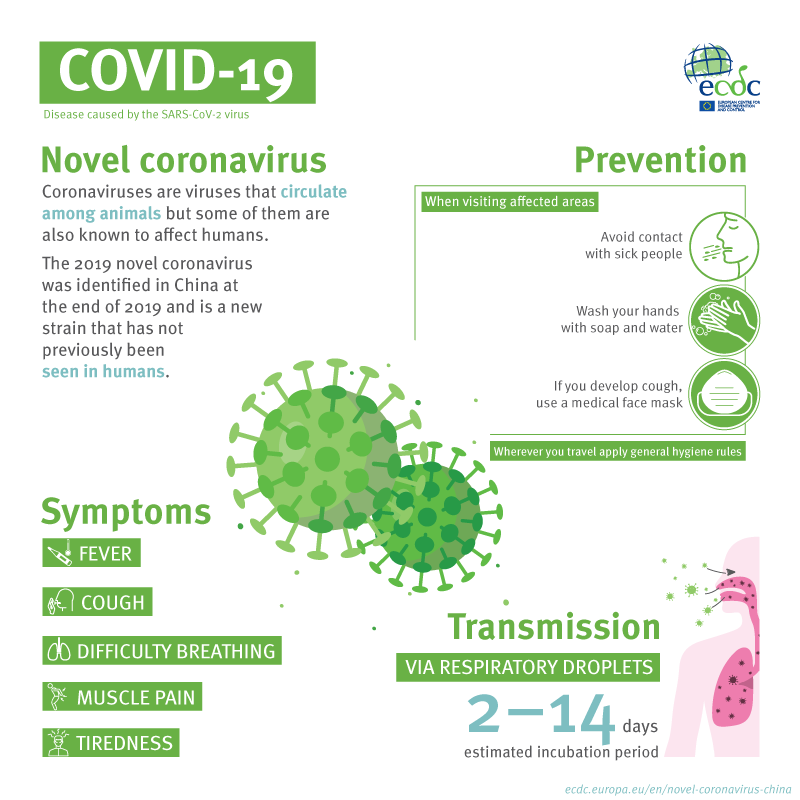 No specific cure for the disease exists yet, so doctors have to give patients medicines to alleviate the symptoms (lowering temperatures or suppressing coughing). In severe cases, masks or tubes are used to help patients breathe and to oxygenate their blood, and in the most severe cases special machines (ventilators) are used to reduce the load on the patient's lungs and heart.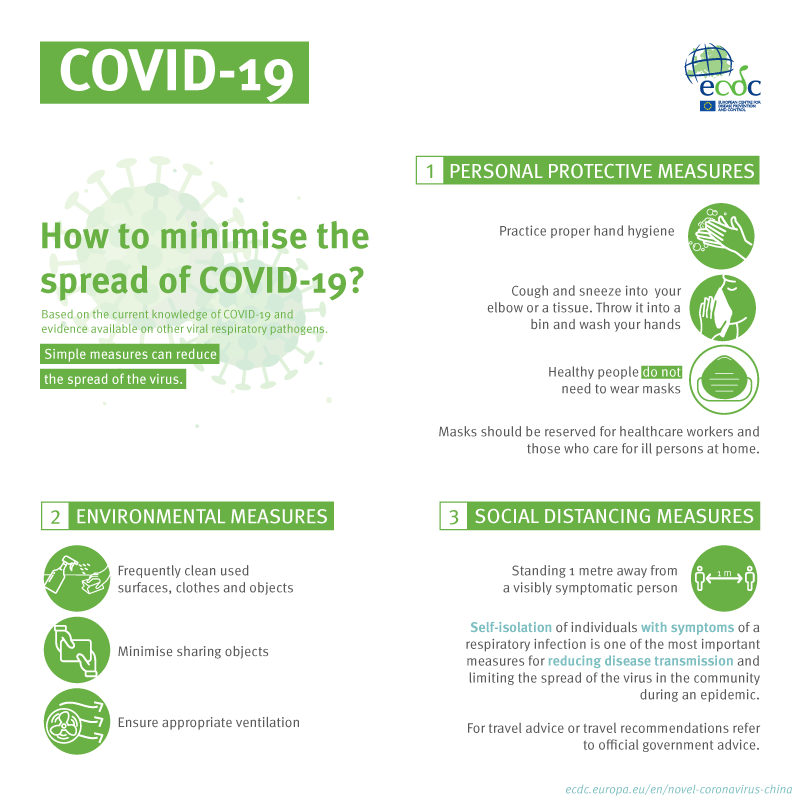 For more details and updated information, see the following links