First collaborative robots in Ostrava
The Moravian-Silesian Innovation Centre (MSIC) plans to build an industrial competence centre. One of the concrete steps leading to the launch of this project was also the establishment of the collaborative robots centre, which has recently been opened at MSIC.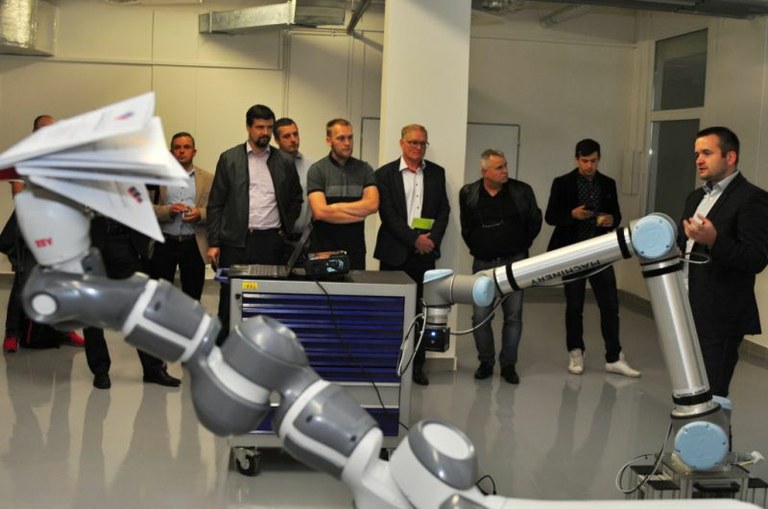 In cooperation with strategic partners such as the Moravian-Silesian Automobile Cluster, the MSIC responds very flexibly to the latest technology trends. In 2016–2019, around 1.4 million new industrial robots worth USD 60 billion were purchased worldwide. Regarding specific uses, 70% of them are used in the automotive, electrical engineering and metal processing industries.
What is a cobot and what are the concrete benefits for companies from introducing collaborative robotics?
One of the key features of cobots is their interaction with humans. Workers and cobots are part of the operation, complementing each other. In principle, cobots are much slower than conventional industrial robots and are designed to respond flexibly to changing requirements during a manufacturing operation or cycle.
With the introduction of collaborative robotics, companies can simply and efficiently maintain production in countries with higher labour costs, as well as bring back manufacturing that was previously outsourced to low-cost countries.
What services will be offered in MSIC?
The joint project of MSIC and the Moravian-Silesian Automobile Cluster aims to create a "collocation centre" with collaborative robots, offering companies the chance to fully verify the possibilities of different types of cobots or to fine-tune an automated operation for the manufacture of a given product. This will create a shared space with a high concentration of knowledge and practical verification of collaborative robotics, especially for small and medium-sized companies from the region, for which the construction of their own testing centre is very expensive.