Mayor
Mayor of the City of Ostrava – role and responsibilities
The Mayor of the City of Ostrava is the City's highest-ranking official representative; in this role, the Mayor is entitled to wear or display the official mayoral and state insignia. The Mayor convenes and presides over sessions of the City Assembly and meetings of the City Council. The Mayor is accountable to the Ostrava City Assembly for his duties as the City's official representative.
Mgr. Jan Dohnal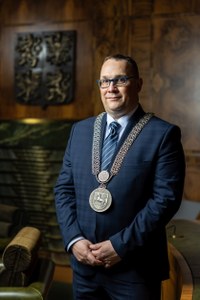 The Mayor of Ostrava Jan Dohnal (born 22. 4. 1980) is a graduate of the University of Ostrava where he studied demography and social geography and regional development. He is a member of the Civic democratic party.
Before entering active politics he was in the real estate business, since 2008 he was co-owner and managing director of a real estate company.
From 2002 to the present day he has held the position of a councillor in the municipal district Ostrava – South, from 2006 – 2014 he was a non-vacant councillor, in the years 2018 – 2022 the Deputy Mayor. Her succeeded in the municipal elections as the leader of the Spolu coalition candidate and became Deputy Mayor for transport, traffic and sport. Since April 2023 he is the Mayor of the City of Ostrava.
Jan Dohnal is married and has two sons.
Contact:
Jan Dohnal
Office no. 203, New City Hall
Prokešovo náměstí 8, 2nd floor
jan.dohnal@ostrava.cz