Dining and Café
Places to eat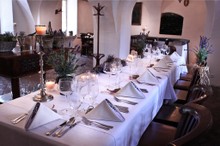 Ostrava has become a city of culinary delights. This is because the food is generally of high standards, and the atmosphere is very pleasant. In such a big city the number of restaurants is naturally enormous, ranging from the very famous restaurants to the less expensive trattorie or pizzerie. Whether you are looking to enjoy classical Czech food, regional specialities or international cuisine, Ostrava has what you are looking for.
The main street for wining, dining and having a great time is Stodolní Street, in the heart of the city. It boasts over 70 bars and restaurants in an area covering just a few blocks. Other dining establishments with cuisine from around the world dot the city. Fast food restaurants are concentrated in the centre and in the city´s shopping malls.
The city´s growing collection of wine shops mean that Ostrava can provide aficionados with the best wines from Moravia, Europe and the rest of the world. Ostrava´s coffee shops are a great way to start the morning, its tea-rooms are pleasant way to relax after a hard day´s work.
And a visit to the region would not be complete without a pint of the local beer, "Ostravar", which has been brewed in the city since way back in 1897.
Czech Specials Project


The CzechTourism agency, in conjunction with the Czech Association of Hotels and Restaurants and the Czech Association of Chefs and Confectioners, has created an exciting new project called 'Taste the Czech Republic' (Czech Specials). The project is aimed at all lovers of good food and drink, whether residents or visitors to the country. The aim of the project is to promote a return to the roots of typical Czech regional cuisine based on top-quality ingredients, highlighting both national and local specialities – food which will captivate Czech and foreign guests alike, transforming them into keen gastrotourists. Gastrotourism is one of the most important facets of the modern tourism industry. It represents a key segment of the industry in traditional European destination countries, where it has proved its worth as a valuable part of the overall tourism package.
The 'Taste the Czech Republic' project i nvolves a large number of organizations from all over the country. Participating organizations receive a certificate and can also enjoy a range of other benefits, including presentations on www.czechspecials.cz and www.ochutnejtecr.cz as well as in various printed materials.
For more information see www.czechspecials.cz
Dining and café tips