Economic potential
The city's development strategy is based on long-term cooperation with investors. Ostrava has become a popular base for numerous international companies thanks to a number of key factors. The combination of low labour costs, a highly qualified workforce, R&D expertise and a strategic geographical location means that Ostrava will continue to offer strong potential for growth in the upcoming years.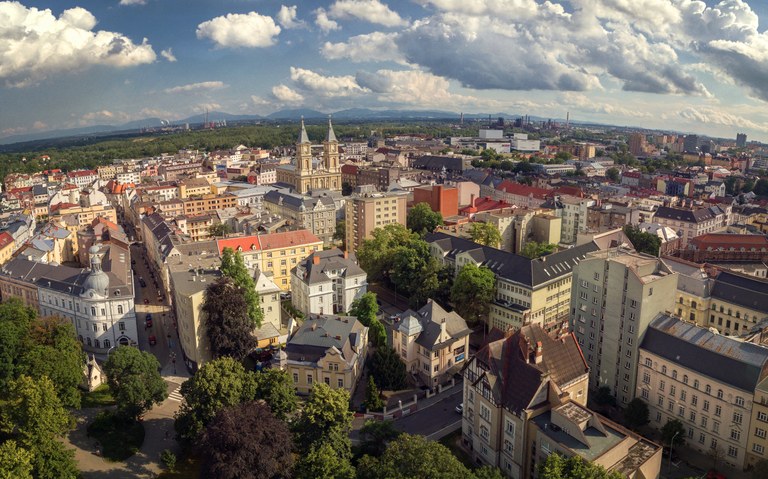 The capital of North Moravia – Ostrava is the industrial, administrative, commercial and educational heart of the most populous region in the Czech Republic

A strategic location near the Polish and Slovak borders, offering excellent transport infrastructure including an international airport

3 universities, foreign-language schools and foreigner-friendly schools – a well-educated, trained and highly flexible workforce

Excellent credit rating. The City of Ostrava was awarded an Aa3 rating (stable) by Moody's in July 2021.

An excellent business environment has attracted major foreign investors to Ostrava and its region
A strong infrastructure for research, development and innovation
High quality of life with great opportunities for culture and sport
---
 POPULATION
Ostrava is the Czech Republic's second largest city in terms of area, and its third largest in population. Thanks to the city's proactive approach, it has become one of the most attractive investment destinations not only in the Czech Republic, but in the whole of Central Europe. It has over 289 000 people and is the capital of the Moravian-Silesian Region – the most populous region in the Czech Republic, with more than 1.2 million inhabitants.
LOCATION
Ostrava occupies a strategic location in the north-east of the Czech Republic, directly on the main north-south transport corridor linking the Baltic and the Adriatic. With excellent access to markets in neighbouring Poland and Slovakia, Ostrava is the natural economic, commercial and cultural centre of the entire Euroregion.
TRANSPORT INFRASTRUCTURE
The city and the surrounding area offer excellent transport infrastructure (an international airport, the motorway network, a key rail corridor, and a high-quality integrated regional public transport system). Ostrava plays an increasingly important role as a railway hub for both passenger and goods transport, and the nearby Leoš Janáček International Airport operates regular and charter flights, including cargo transportation.
At present, there is a regular Ostrava – London line which is operated by the company Ryanair. From March 2022, passengers can use the renewed regular Ostrava – Warsaw line again. It is operated by LOT Polish Airlines. At Warsaw Airport passengers can transfer to a wide range of destinations in Europe, North America and Asia. There are also air cargo lines that connected Ostrava with Cologne (operated by DHL company) Leipzig (operated by UPS) and China. 
The airport can handle the world's largest passenger and cargo aircraft, including the Airbus A380. There are direct rail links to the airport for both passengers and cargo – giving it a clear competitive advantage over other Czech airports.
HUMAN RESOURCES 
One of Ostrava's key strengths is its human resources. The city's three universities (with a total of over 21,000 students) excel in technical, IT and business-related fields, producing thousands of highly trained graduates every year – as well as offering a strong base for research, development and innovation.
Ostrava also has an effective network of secondary schools (both public and private), many of them specializing in technical fields. There are also several foreign-language schools and foreigner-friendly schools – such as the pioneering 1st International School of Ostrava and The Ostrava International School.
DEVELOPMENT
In the first decade of the 21st century, the City of Ostrava built several major industrial zones, attracting huge volumes of investment from both Czech and international companies. Among the new arrivals that decided to base their operations in Ostrava were PEGATRON Czech, Tietoevry, SungWoo Hitech, CTP Invest, Mahle Behr, Siemens, and many more.
A milestone in this process came in 2007 when the Korean automotive giant Hyundai built its first European factory in Nošovice near Ostrava. The region has since grown to become a major hub for Europe's automotive industry, including a strong presence by Korean companies. Nearly 3,500 cars per day are made within a 100-kilometre radius of Ostrava.
This massive influx of investment has helped to create thousands of new jobs in the region. Recent years have brought an increase in the number of investors generating highly qualified jobs – including the MONETA Money Bank customer services centre, Tietoevry and others.
SCIENCE, RESEARCH AND INNOVATION 
Ostrava's innovation infrastructure includes the Moravian-Silesian Innovation Centre, the Business Innovation Centre, the Centre for Advanced and Innovative Technologies, the Business Incubator and others – giving companies direct access to the facilities and research capacities of the city's renowned technical university and other research centres.
---
If you are interested in information about events in the sphere of business, development, science, investments and city strategy, subscribe to the Development Newsletter!!! 
---
Ostrava is working on improving living and business conditions. The following website informs about city activities and strategic projects.

 Ostrava – where new stories begin. That's the vision that the city plans to make a reality during the next years. Ostrava has been implementing a range of projects to help achieve this vision, creating an energized city that offers a high quality of life for all generations and attracts talented people to live and work here.