World Beach Volleyball returns to Ostrava
The second year of the FIVB World Series J&T Banka Ostrava Beach Open has started with qualifying matches this Wednesday. All top players have come to Ostrava.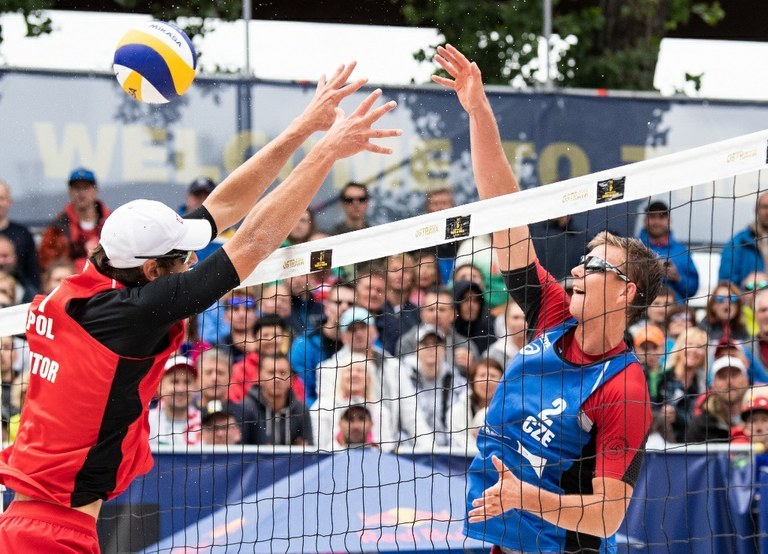 Author: Adolf Horsinka
The FIVB World Series tournament is held from Wednesday to Sunday in the industrial area of Lower Vítkovice. The tournament was ranked among the top three events of the World Series last year.
"This is acknowledgment of the work of the organizers who prepared the tournament at the top level, but also acknowledgement for the city of Ostrava, which is rightly considered a city of sport. Nowhere else in the world can volleyball players play such an important tournament in an industrial setting that tells the story about the transformation of our city from an industrial agglomeration into a modern metropolis. I believe that the attractive matches of this year's tournament will attract a large number of sports fans and that athletes awarded with medals from the Olympics and World and European Championships will be a model for our children and youth and will attract them to do sports", said Tomáš Macura, Mayor of Ostrava.
Over the course of five competition days, elite beach volleyball couples from all over the world will be fighting on four courts because the tournament is part of the Olympic qualifier. The main event will feature 32 male and 32 female teams. Fans can look forward to current world leaders such as Anders Mol, Christian Sørum from Norway and Heather Bansley and Brandie Wilkerson from Canada. Last year's victory will be defended by the Spaniards Pablo Herrera and Adrián Gavira in men, and Barbora Hermannová and Markéta Nausch Sluková in women.
"The unique location of the tournament speaks for itself. The atmosphere in Ostrava last year was absolutely fantastic", said last year's winner Barbora Hermannová. "From the start of the tournament to the grand finale, the fans on the stands were doing everything they could to make the Czech teams succeed, and that's what we really appreciate on the court. Winning a top-level tournament at home takes courage. And winning such a tournament twice takes even more courage", said Hermannová.
Tournament Programme
Wednesday 29 May - qualification.
Thursday, 30 May - group matches
Friday 31 May - group matches and play-offs
Saturday 1 June – round of 16 and quarterfinals
Sunday 2 June – semi-finals and finals