We will welcome the best of the world's athletes
The Continental Cup, the third largest athletics competition after the Olympic Games and the World Cup, will be held in Ostrava on 8 and 9 September. The best of the world's athletes will be competing in Ostrava for two days. The Continental Cup is a reward for our city for the successful organization of sports events such as the World Ice Hockey Championship, the European Table Tennis Championship, the Davis Cup and the Fed Cup, the Golden Spike and more.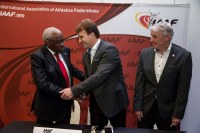 The best athletes of the world will compete in the Continental Cup in Ostrava. Illustrative photo: Jiří Zerzoň
Nearly 600 athletes, coaches and officials will come to Ostrava to participate in the two-day event, which takes place at the City Stadium in Ostrava. The athletic contest in Ostrava will be broadcast by the most important sports channels around the world, with an audience in the range of hundreds of millions of viewers. Teams from Europe, America, Asia and Australia-Oceania will strive for supremacy in the Continental Cup. In each of the 40 disciplines, there will always be the two top athletes from each continent.
"The City of Ostrava has financially supported the organization of the Continental Cup and also invested in the necessary modifications and maintenance of the Municipal Stadium including training areas beyond the stadium. The modifications made will serve athletes in subsequent years during the events that will take place at the stadium," said Mayor Tomáš Macura.  
Following the Continental Cup, Ostrava's elementary and secondary schoolchildren took part in the year-round educational and sports project "Ostrava roots for continents", backed by phenomenal world athletes. "I believe the Continental Cup and also this project will attract children and youth to regular sports, and some of them, in a few years, may compete with the world's greatest athletic stars at the City Stadium in Ostrava," said Mayor Tomáš Macura.