Visit from Hubei University of Technology, a Chinese partner
The main objective of this visit was to meet with representatives of the leadership of VŠB-TUO and the Faculty of Economics, which has been its partner for 10 years.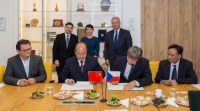 During the meeting, both partners discussed cooperation in the field of joint Bachelor, Master and Doctoral study programs. On this occasion, agreements were also signed for joint teaching of both universities under these programs for up to 120 students per year in Bachelor and Master's programmes.
The delegation met with Mr Praus, the Vice-Rector for Science and Research, Mr Halama, Vice-Rector for Commercialization and Cooperation with Industry, as well as with Mr Zmeškal, the Dean of the Faculty of Economics, Mr Macháček, Vice-Dean for Foreign Relations, Development and Legislation, and Mr Čajka, Dean of the Faculty of Civil Engineering.
The visitors also had the opportunity to meet Chinese students who study at the Faculty of Economics and talk to them about their experience at VŠB-TUO. It was clear from their responses that they were very satisfied with their studies at VŠB.
Source: https://www.vsb.cz/cs/o-univerzite/novinky/navsteva-z-cinske-partnerske-univerzity-hubei-university-of-technology_bp36344