The Ostrava Teardrop: An attractive site in the heart of the city is being offered for sale
The Karolina area – directly adjacent to Ostrava's historic city centre and now the location of a brand-new modern quarter – represents an outstanding opportunity for development. The City is offering for sale a premium site at Karolina; the land – which is in the shape of a teardrop – is on level ground and covers an area of almost 8 300 m2. By freeing up the land for development, the City of Ostrava is supporting a further expansion of the city centre to strengthen the links between the historic part of the centre and the modern Karolina quarter, with its residential complex, office facilities and retail/entertainment mall.
The development should be an urban multi-storey building (or complex of buildings) of high architectural quality, in keeping with their location in the heart of the city. The land is zoned for mixed use combining residential buildings and civic amenities (e.g. apartment blocks, shops, services, offices, government buildings, cultural facilities, education provision, restaurants, accommodation etc.). The height of the new development (which should be at least 12 storeys) will enable it to function as a dominant local landmark. The indicative illustration has been created by the architectural studio PROJEKTSTUDIO EUCZ, the author of the building design in this site prepared for the previous investor.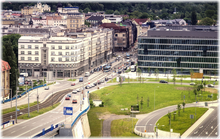 The site is adjacent to a major transport artery in the central part of Ostrava (28. října), giving excellent access to the transport and technical infrastructure and public transport. The location of the site will enable synergies to be generated by the future functions of the new development and the existing functions of major cultural, social and commercial (retail) facilities. The City aims to transform Ostrava's central core into a vibrant and pleasant space for local people and visitors alike.
Tenders are to be submitted no later than on 31 December 2018.
More information you will find on the Official Desk, registration number of the sale 1559/2018.