The historic slaughterhouse will change the face of the City
The City of Ostrava will repair the premises of historic slaughterhouse in Ostrava. The neglected premises will be transformed into a modern art gallery after reconstruction. The city invited architectural tenders for its reconstruction and a Polish architectural studio, KWK Promes, owned by the architect Robert Konieczny, is preparing the project documentation. The slaughterhouse extensions will be converted into an international cultural centre.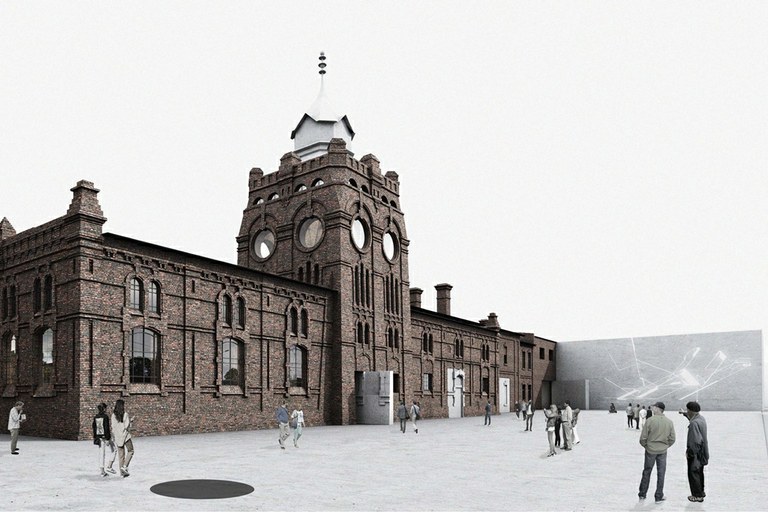 Visualization of the municipal slaughterhouse after rebuilding according to the design of KWK Promes.
The premises of the municipal slaughterhouse were established in 1881 and served its purpose until 1965, when the slaughterhouse moved to the Martinov meat-packing plant. Afterwards, the premises were mainly used as warehouses. The slaughterhouse, together with the neighbouring land, was bought in 1994 by the company Bauhaus, which undertook to repair the monumentally protected slaughterhouse, however this did not happen. The City of Ostrava decided to save the architecturally valuable premises and the building was purchased in 2016. Subsequently, architectural tenders were invited for the reconstruction of the historic slaughterhouse building for the needs of the Plato Gallery.
Polish architectural studio, KWK Promes, owned by the architect Robert Konieczny, is preparing the project documentation. Robert Konieczny is one of the world's most respected architects. The National Museum in Szczecin, designed by him in 2016, was awarded the 2016 Best Building Award and the European Prize for Public Space Architecture, and in 2017 he was awarded the Best Family House of the World Prize for the design and realization of an ark-shaped house in the village of Brenna near Cieszyn. 
The historic part of the city slaughterhouse is connected to extensions. These are a total of six buildings that the City also purchased. "We invited a public tender for a conceptual design for these premises. The company Cooltour won with a project of an international cultural centre. The city will thus especially support the creative arts flourishing in Ostrava. We feel that this will boost its further development. Together with the concurrently planned conversion of the historic city slaughterhouse for the Plato Gallery, this project will contribute to the change of face and atmosphere in this part of the city, since we do not hide our plan to gradually transform it into a new cultural district," stressed Tomáš Macura, the Mayor of Ostrava.