Ostrava set to take part at this year's MIPIM
Next week, Ostrava will participate in the prestigious MIPIM investment event for the 22nd year in a row. This year's MIPIM will be held in the French city of Cannes from 12–15 March, and Ostrava will feature as part of a joint presentation alongside the Moravian-Silesian Region, Prague and Brno. The "Czech Cities & Regions" stand will cover 250 m2, and it will use a single design concept to present all four exhibitors.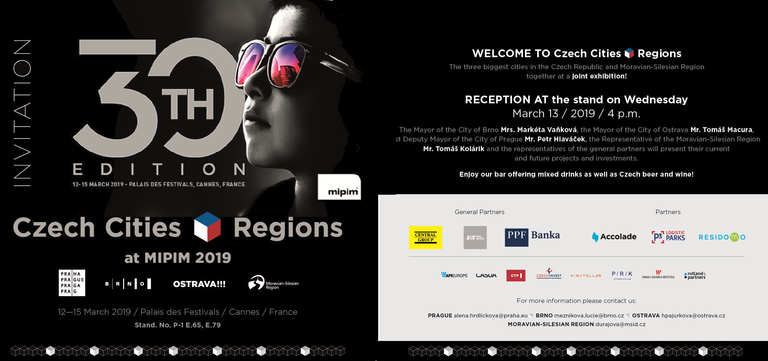 Ostrava's Mayor Tomáš Macura gave more details of the City's plans and activities: "Ostrava will be offering available land for residential developments, offices or hotels in the heart of the city. We are investing in Ostrava's future in order to help create a genuine and vibrant urban centre. To help us achieve that goal, we are setting up a new organization – the 'City Studio for Spatial Planning and Architecture' – which will coordinate major architectural projects and support high-quality urban development throughout Ostrava. The new studio's task will be to implement urban development projects from the City's Strategic Plan, so it will be a powerful driving force for Ostrava's ongoing development."
Development sites offered to potential investors at MIPIM will include vacant land at Smetanovo náměstí, Karolina, and next to 28. října St. in Moravská Ostrava. The City will also present a number of residential projects in the historic heart of the city centre – the flagship 'Nové Lauby' development, a new apartment block at the junction of Kostelní and Biskupská St., plus a new apartment building on Janáčkova St.
Ostrava will also offer land at the Mošnov Industrial Zone, as well as showcasing several major projects that are already in the implementation phase. These include the Ostrava Airport Multimodal Park, the Ostrava-Hrušov Development Zone, and the University of Ostrava's project to create a brand-new multifunctional site at Černá Louka (Black Meadow) on the left bank of the Ostravice River, as well as a conversion of the historic municipal slaughterhouse to create a modern art gallery.
Mayor Tomáš Macura continued: "The latest survey by the ABSL Association – which represents the business services sector in the Czech Republic – found that Ostrava is now one of the most attractive investment destinations in the country, and in many respects it has overtaken Brno as a target for new investments. It is in second place (just behind Prague) for a range of measures, including the quality of the transport system, the availability of modern office premises, and the attractiveness of the city as a whole. We were also ranked in first place for the level of cooperation and assistance provided by the local authorities – which is a very pleasing reward for all our long-term efforts in this area."
General partners for the joint Czech Cities & Regions presentation are Central Group, J&T Real Estate CZ and PPF banka. Other partners are Accolade, P3 Logistic Parks and Residomo. A number of companies will also be taking part in the Czech Cities & Regions presentation: AFI Europe Czech Republic, CASUA, CTP Invest, CzechInvest, Kinstellar, PRK Partners, UNIBAIL-RODAMCO-WESTFIELD, and rutland & partners.