Ostrava once again welcomes the world's top athletes
Ostrava is once again welcoming the world's top athletes. On Thursday the city hosts the Golden Spike athletics meeting, which has been held annually at the City Stadium in Vítkovice since 1961.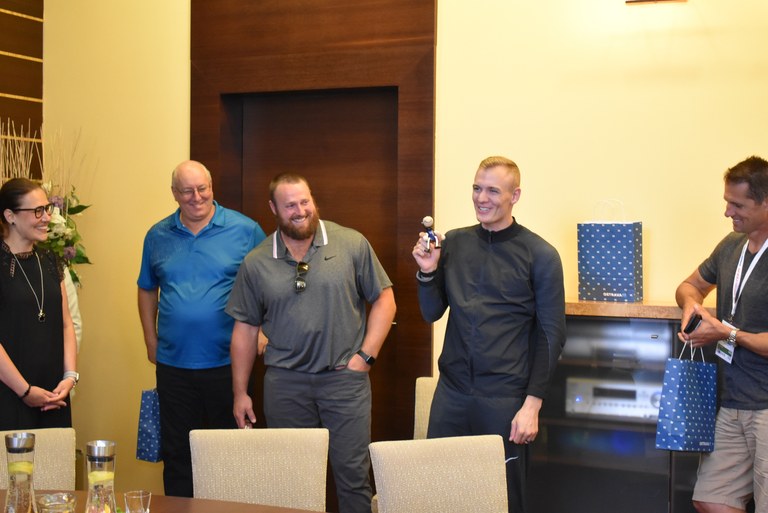 The Golden Spike continues in a long tradition of showcasing some of the most talented athletes from all over the world – some are already legends in their disciplines, while others are rising stars who will continue to dazzle us for many years to come. And of course, the Golden Spike offers a great opportunity for athletics fans to admire the talents of home-grown Czech athletes.
With five Olympic gold medallists, fifteen world champions and twelve European champions taking part, the Golden Spike is sure to produce some breathtaking performances. Spectators can look forward to seeing the young American sprinter Christian Coleman (currently the world's fastest man), popular Czech javelin star Barbora Špotáková (the holder of two Olympic golds), and American pole vaulter Sam Kendricks (the current world champion in his discipline).
Christian Coleman will be competing in the 200 metres, which is a great challenge for him. He does not hide his ambition to beat Usain Bolt's meeting record of 19:38, which the Jamaican set back in 2008:
"It's not impossible – my personal best is only two hundredths of a second slower, and that was two years ago. I've progressed a lot since then. Last year I didn't run the 200 metres at all because of my injury. But I'd like to achieve a good time at the American Championships and qualify for the World Championships. The meeting in Ostrava fits perfectly into my plans for the year, so I approached the organizers and offered to participate. I know the stadium's very modern – actually it's still new, and the track is very quick. If the fans get behind me, I'll be able to run very fast. I love noisy and passionate crowds."
The starting lineup will also include Czech runner Pavel Maslák and the current European indoor champion, Ján Volko from Slovakia.
Deputy Mayor Andrea Hoffmannová welcomed a pair of international stars to Ostrava's City Hall: New Zealand shot putter Tom Walsh (2017 world champion) and American pole vaulter Sam Kendricks.
Both athletes talked enthusiastically about Ostrava, and said they were very much looking forward to competing in the Golden Spike on Thursday. They were both in a relaxed mood; as current world champions they don't need to qualify for the World Championships (which will be held this autumn), so they can focus entirely on peaking at the right time and entertaining the fans. Sam Kendricks explained his goals:
 "Life doesn't change when you win the championship – everything carries on as before. And it's always difficult to defend a gold medal. In Ostrava I want to perform as well as possible and entertain the spectators. I like it here at lot – the hotel is nearby; the stadium is great. You have plenty of very talented young athletes here in the Czech Republic, and we'd like to motivate them. So I hope lots of people come and enjoy the meeting."