Ostrava again set to present new investment plans at MIPIM
A delegation from Ostrava will soon be in Cannes to showcase the city as an attractive investment destination. The city is participating for the 21st time at MIPIM – one of the world's leading investment events. This year's MIPIM will take place from 13–16 March. Ostrava will feature as part of the joint "Czech Cities" presentation, alongside Prague and Brno; similar joint exhibitions last year in Cannes and Munich proved highly successful.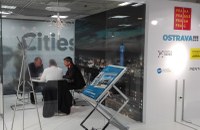 CZECH CITIES, MIPIM 2017
Ostrava's Mayor Tomáš Macura gave more details: "We are building on the success of last year's joint presentation of cities and regions – a format that we tried out for the first time in March 2017 at MIPIM 2017 (with Prague and Brno) and then at Expo Real Munich in October 2017 (with the addition of the Moravian-Silesian and South Moravian Regions). Last year Ostrava organized both joint exhibitions, but this year we are passing the baton to Prague. I am confident that this year's joint presentation will be just as successful as our participation at last year's events, generating many new contacts that could lead to valuable investment opportunities. Ostrava will be presenting a range of available sites for light industry, residential developments or leisure facilities in the very heart of the city. We will also present the city's innovation ecosystem – a concept which is designed to boost Ostrava's competitiveness, improve quality of life for all citizens, and support our bid to become European Green Captial 2020."
The joint presentation (again covering 253 m²) features a unified design concept which gives it a strong element of coherence. The presentation focuses on elements which combine to produce synergic effects: innovations and infrastructure, urban living and working. The presentation of these themes is designed to reach out to the broadest possible spectrum of visitors to MIPIM, with a particular focus on global investors and real estate developers.