Industrial zone "Nad Porubkou" is expanding
A part of the industrial zone "Nad Porubkou" which has long been unused is finally awaking. The Industrial Park welcomed its first tenants and investors. It also has a new name – NP AREA (formerly Soltex). Following the branch of the logistics company TNT Express Worldwide, High Lite Touring has built its office and storage facility. Talks with other tenants are ongoing.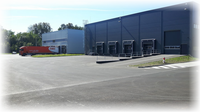 The zone is especially interesting to clients who do not want to get "lost" in huge industrial zones, but want to be visible and established near the centre of Ostrava. NP AREA is located in the southern part of  the city district Ostrava–Poruba. Although smaller in size, the industrial zone offers tenants an attractive location, very good connection to the backbone roads and good access to public transport.
The first tenant of the industrial zone was TNT Express Worldwide with its Ostrava transit depot. The logistic-administrative building covers an area of 1,400m2. Recently, the zone welcomed High Lite Touring, which began using the 2,070 m2 storage hall for the storage of concert and stage technology. Also included is two-storey administrative premises with an architecturally demanding turnkey solution and a special mezzanine floor for storage.
At present, approximately half of the zone is occupied, which is a good example of an ideal revitalization of brownfield areas in Ostrava. Shortly after the first stage, TNT has signed an agreement for extension of its premises. Intensive negotiations are also taking place with several interested Czech and foreign companies.