City offers an attractive site for residential development at Středoškolská St.
At its session on Wednesday 23 March, Ostrava's City Assembly approved plans to sell land in the Ostrava-Jih municipal district for a future residential development. The site, located between Středoškolská St. and U Studia St., has a total area of 12151 m². With excellent transport links and easy access to civic amenities, it offers an ideal location for an apartment complex. The deadline for submitting bids is 29 July 2022.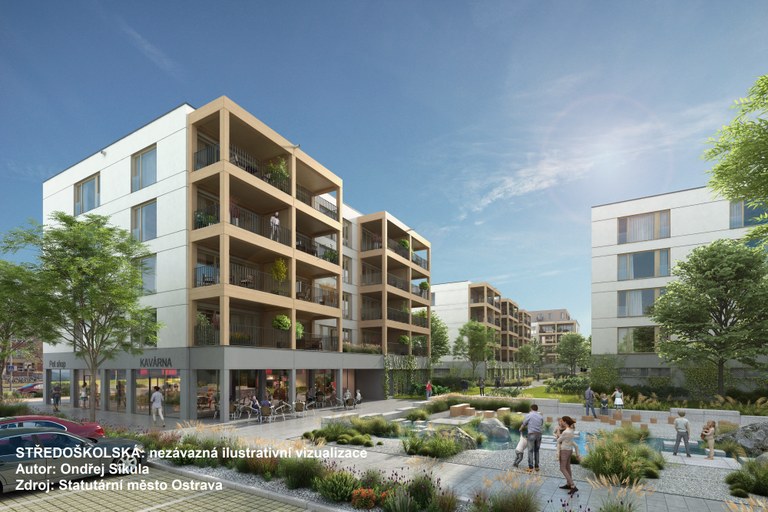 The site is an open grassy area on the edge of a housing estate consisting mainly of prefabricated apartment blocks. Tram and bus stops are a short walk away, as are Ostrava's main sports venues – the City Stadium (football and athletics) and the indoor Ostravar Arena. The nearby Avion mall offers a full range of shops and services.
The regulatory conditions for new developments at the Středoškolská St. site have been elaborated by the City of Ostrava's Municipal Studio for Urban Planning and Architecture (MAPPA). The purpose of the construction at the site is to create apartment buildings. The development must respect the currently valid Zoning Plan and regulatory conditions. The regulatory conditions define the individual blocks, street lines, the open building line, the closed building line, the flexible building line, through-access in the blocks, actively used ground levels, regulated building heights, and the location of the entrance.
According to a study commissioned by the City, the residential development could comprise 217 apartments in total. The City has specified that development plans must take a comprehensive approach to the entire area, including essential infrastructure in the vicinity, and for the first time ever the City has also stipulated that at least 10% of the new apartments must be set aside as affordable rental housing. Affordable rental housing means that the rent will be agreed at a level of 75% of the usual rent for such a unit at the time when the rental contract is concluded and that this level of rent will remain unchanged for a period of 10 years from the conclusion of the first rental contract for each individual residential unit (apartment). 
Complete information about the site and the conditions for bids is available at the City's official noticeboard and the website https://land.ostrava.cz/stredoskolska-site/.
VISUALISATIONS of the building at the site are INDICATIVE ONLY. They are not binding. It is up to the developer to decide how to approach the site. The indicative illustrations of the building at the site on Středoškolská Street were produced by Ondřej Sikula.