Chinese company to modernize the Ostrava chemical plant
The Memorandum of Cooperation between the Moravian-Silesian Region, the City of Ostrava and the Shandong Province of China is becoming more specific. Wanhua Industrial Group, the Chinese owner of BorsodChem MCHZ, has confirmed a CZK 800 million investment in modernizing its Ostrava company.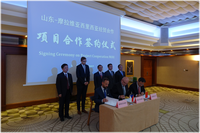 The modernization will meet the highest technological standards in its production, and minimize its environmental impact in the region.
At a joint meeting, top officials from the Shandong Province, with its 100 million inhabitants and gross domestic product ten times that of the entire Czech Republic, declared interest in creating favourable conditions for investing in Ostrava and the Moravian-Silesian Region for the companies and institutions from the Shandong Province. This is very important, because in China, this step is necessary for Chinese companies and institutions to start really effective negotiations. The Shandong Province is the founder of the Wanhua Industrial Group.
Total investments in the Ostrava chemical plant could exceed EUR 100 million, not only in the necessary modernization of technology, but also in the development and production of new high added value products. The first will be a new nitrobenzene production plant, based on the latest Canadian technology, for over EUR 30 million, i.e. about CZK 800 million. The new plant will replace the existing one, which will be permanently shut down and disposed of in an eco-friendly manner.
"We naturally welcome and support investments in the modernization of industrial enterprises in Ostrava, provided that they are technologies and procedures that meet the highest quality standards, have no - or even reduce the existing - negative impacts on the environment", said Tomáš Macura, the Mayor of Ostrava.