Technical University will cooperate with Chile in the program Open Innovation EXPANDE
Jun 01, 2018 07:00
On 31 May 2018, two representatives of the Chilean organisation Fundación Chile and the program Open Innovation EXPANDE, Mr Enrique Molina (Director) and Agustín Sepúlveda (Technology Director), visited VŠB – Technical University of Ostrava. They were accompanied by Ms Eva Bartoňová – project manager for research and development of Czechinvest.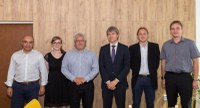 EXPANDE enables foreign technology companies and research organizations to directly engage in the Chilean mining innovation ecosystem. Cooperation under this program will thus offer the possibility of a long-term wider technological link with Chile.
The main objective of this visit was to meet with representatives of VŠB-TUO and the Faculty of Mining and Geology. During their visit, guests met with Mr Halama, the Vice-Rector for Commercialization and Cooperation with Industry, Mr Reli of the Institute of Environmental Technologies, and Mr Krömer of the Faculty of Electrical Engineering and Computer Science, Department of Computer Science.
During the meeting at the Faculty of Mining and Geology, they met with Mr Slivka, the Dean, Mr Ivan and Mr Šancer about specific possibilities for cooperation. The visitors also visited the Department of Robotics and the Institute of Environmental Technologies.
Source: https://www.vsb.cz/cs/o-univerzite/novinky/navsteva-z-chile-na-vsb-tuo_bp36341